Melbourne Marathon Memories from Bob Ansett
The lead up to my first Melbourne Marathon flowed from my interest in personal fitness. In the very early 70's I introduced a fitness campaign for my employees at Budget Rent A Car. Initially, I subsidised half the cost for any approved gym program employees wished to participate in. Later I set up an arrangement with the North Melbourne Football Club for their trainer to take us through an hour's training prior to work three mornings a week.
Not long after we began sponsoring 10 km fun runs around Australia under the Budget banner. In the 80's this lead to some of us getting serious about running a marathon. About ten Budget employees including myself and wife Josie began training some months prior to the event. For me, it was a personal challenge to run my first marathon just after my 50th birthday.

The training programme progressed pretty well and we confidently ran a 30K trial the Sunday before the race. On race day we all climbed aboard a Budget Kombi Van and headed down the highway to Frankston where the race began in those days. I remember it was a really cold morning and we were all patiently standing around in shorts and a singlet waiting for Steve Moneghetti to fire the starter's gun. The sound from thousands of runners was deafening. Then we were off.
As we passed the first 10K mark I couldn't help but notice how quiet the race had become and wondered why? I soon found out as we were down to serious business now. By the time I got to the 30K drink station the runners had spread out considerably and I was looking forward to going up Fitzroy Street but this seemed to take an eternity, not helped by my legs starting to cramp up. I discovered Fitzroy St had a much sharper incline than I had expected. While it seemed to take forever to get onto St Kilda Rd, when I did I thought for a moment I was home and hosed. Quite the contrary as it seemed to be the longest leg of the race. About this time Derryn Hinch, being driven in an open car, pulled up beside me and started asking questions about how I was going for his live radio broadcast. By that time my mind was completely blank so I have no idea what he asked or what I replied. I hope it wasn't any expletives. I finished the race at the Arts Centre, stiff with a loss of toenails but jeez, it felt good. I remember Steve Moneghetti coming up to me and saying "I have great respect for you guys going on for close to five hours as I don't think I could run for that long". Tongue in cheek I'm sure.

Prior to the 1988 start. Scanned from result book.
In 1986 Budget took over the major sponsorship of the event and again we mobilised a team of Budget runners to fly the flag, so to speak. This time around we trained seriously over a three month period and again took the fateful journey to Frankston feeling confident we'd break the four hour mark. Unlike the previous attempt, the morning was unseasonably hot with a very powerful Northerly wind blowing. It didn't have too much effect early as we lumbered up the Nepean Highway but when we turned into Beach Rd it was like being hit head on by a category 5 cyclone. Spectators lining Beach Rd took pity on us and poured countless bottles of water over our heads as we passed by. Some of us got a little light headed and kept seeing drink stations but they were just mirages. I am not sure how long Beach Rd is but I reckon I would have stopped at least at 5 drink stations, so my guess would be around 25K.
The crowds along Beach Rd were amazing at shouting encouragement us "It's not far to the next drink station". When I arrived at the St Kilda amusement park, help arrived in the form of an old friend, former North Melbourne player and now great Hawthorn coach, Alistair Clarkson who jogged alongside me up Fitzroy Street and along St Kilda Road all the way to the finish.
I didn't break the 4 hour mark but finished at 4 hours and 4 minutes.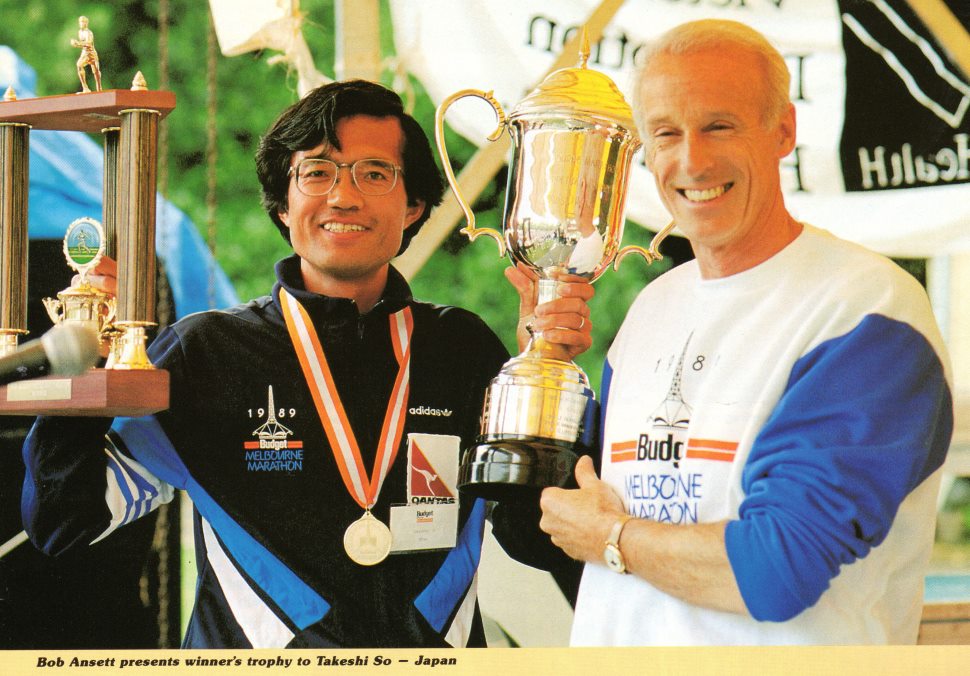 Presentation to the 1989 race winner. Scanned from result book.
Although I haven't run another marathon, I begin each day here in Noosa running about 7 kilometres through the National Park finishing it off with a swim in the bay. With my 86th birthday coming up in August, I will have run 9000 kilometres since moving to Noosa 25 years ago.