Club Run, 23 July 2017
A select group of runners braved the inclement conditions for a run on the 23rd of July.
Club run, 5 March 2017
We met outside the Observatory, Birdwood Avenue at 8am and ran/jogged/walked a lap or two of the Tan. Afterwards we had a coffee or orange juice at Jardin Tan.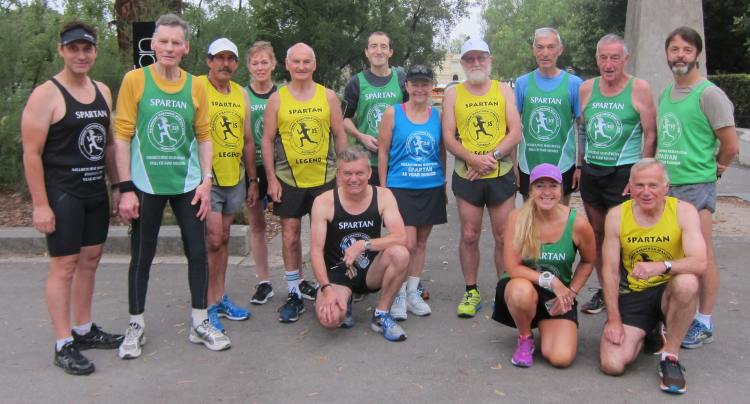 Standing: John Kaparelis, Conor McNeice, Frank Biviano, Pamela Young, Nev Gardner, Vince Politino, Jane Sturzaker, Bruce "Digger" Hargreaves, Carlo Iovenitti, Brian Walsh, Justin Hansen. Kneeling: Jay Fleming, Candida Baskcomb, David Foskey. Missing from photo: Peter Ryan
Hall of Fame Social Run and Get Together, 5 July 2015
Our first club run for 2015 attracted 17 runners who did one or two laps around the Tan, then adjourned to the Jardin Tan eatery for refreshments. We were very glad that we had a few members attend who aren't (yet?) in the Hall of Fame.
The date chosen coincided with the Gold Coast Marathon which ruled out a few potential starters. We will organise a similar run in the future.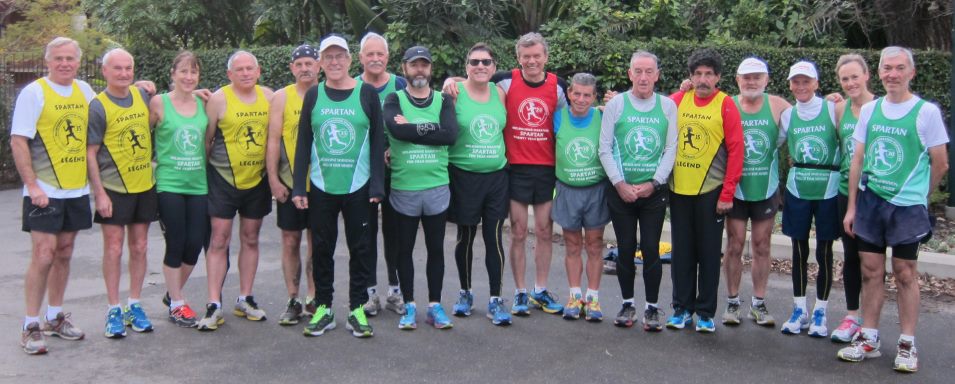 David Foskey, Nev Gardner, Cath Bombardieri, Roger Weinstein, John Dobson, Peter Ryan, Dennis Nish, Justin Hansen, Mike Zervos, Jay Fleming, Ray Cilia, Brian Walsh, Frank Biviano, Bryan Flegg, Antony Martin, Felicity Doolan, Carli Iovenitti.
Before the Run
Setting Off
End of a lap
In Jardin Tan
Victorian Road Runners Runs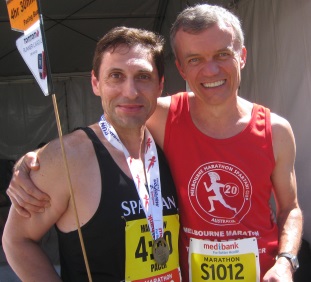 Join the Victorian Road Runners on the first Saturday of each month at the Tan, commencing at 7.30 am for a run of 4km or 8km (or more!). President Jay Fleming hopes to see you, in your Spartan singlet, for a lap.
The picture shows committee member John Kaparelis on the left and President Jay Fleming on the right.
Club Run, Sunday May 4
A few stalwarts turned up even though the weather was less than promising. True to expectation, there were periods of heavy rain during the run, but the sun came out by the end. There was always the prospect of a warm drink in the comfort of the Observatory Cafe – alas, closed for renovations! This meant that there was at least one Spartan on the Tan (running much faster than me) that I didn't meet, so if you read this, please send an email and let me know who you are.
We will organise another run: we can't guarantee the weather, but we do promise to check whether coffee will be available.
22nd March 2014 Club Run
We started a little after 8:00 am on the Tan, near the Observatory Cafe. We had ten members and broke up into a number of groups according to the desired speed of the runners. One group ran a single lap at a leisurely pace. This group included Nev Gardner who was knocked off his bike by a car on New Years Day. Other groups ran two or three laps at varying paces.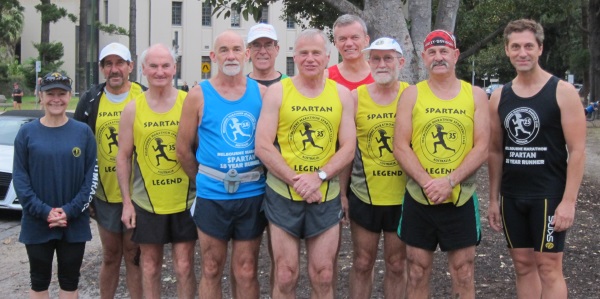 Jane Sturzaker, Frank Biviano, Nev Gardner, Maurice Gregory, Peter Ryan, David Foskey, Jay Fleming, Bruce "Digger" Hargreaves, John Dobson, John Kaparelis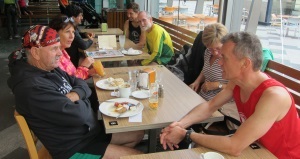 Most of us adjourned to the Observatory Cafe for a snack and a chat to round off an enjoyable morning.
2013 Club Runs
Starting in May, the Sunday Run is back! They commenced May 5, continuing weekly until Sunday the 30th of June which was the last in the first series.
The May 19 run doubled as an opportunity to shoot some footage for a future documentary. Those who attended were treated to some marvellous weather and had an enjoyable day. We would like to thank the Carousel Cafe for reserving two tables for us on their busiest day of the year and making their deck available for filming.