2023 Melbourne Marathon Results Book Now Available
The 2023 results eBook is now available. Results books for other years are listed here.
Video of 2023 Marathon Live Stream
Here is a six hour 10 minute video of the 2023 event. Spartan Secretary Pamela Young is interviewed at around 5 hours 54 minutes. John Dobson (45th Melbourne) and Hilton Kahlberg (100th marathon) also appear around this time. Ian Gainey is shown in the last minute or so of the video.
Numbers Have Now Been Allocated for All Spartans
Membership Secretary Felicity Doolan has now allocated numbers for all incoming Spartans. The complete list of members can be found here.
From the archives – photos of 2007 AGM
Courtesy of Bruce Hargreaves, here is a video of singlet presentations at the 2007 AGM. The presenter was our patron, Robert de Castella.
2023 Marathon Completed
Congratulations to the many Spartans who finished the 2023 event. At 7945 finishers it was the largest yet.
The Spartans tent was as busy as usual, and the initiative of presenting certificates to incoming Spartans well received. Thanks to John Dean for making the presentations.
Felicity Doolan and friends once again photographed finishers. These have now been uploaded.
Incoming Spartan numbers won't be allocated until after the results are made official.
Paul Basile and Jay Fleming did a magnificent job organising and managing the Expo and Finishers tent. Colin Silcock-Delaney once again was everywhere.
Next Club Run Sunday November 26
Photos from the October club run are here. The next club run will be Sunday November 26.
Note that club runs are scheduled for the fourth Sunday of every month except December.
Strava Group
We have set up a new Strava group for members as the original group was accidentally deleted: Melbourne Marathon Spartan Strava group.
For those that are new to Strava, it is currently the world's number one app for runners to log their training runs. No GPS watch is necessary (though obviously useful) and technically no smart phone is either, as you could also manually upload your runs to it, or simply just use it to see what other runs people are doing, so that you get some inspiration or ideas about running routes.

We look forward to seeing you on Strava and out on the runs.
2023 AGM
The 2023 AGM has been held at the MCG with a large audience enthralled by guest speakers Nikki Wynd and David Eadie.

We have completed posting photographs of the singlet presentations.

The photo below, courtesy of Kevin Cassidy, shows President Jay Fleming addressing the meeting,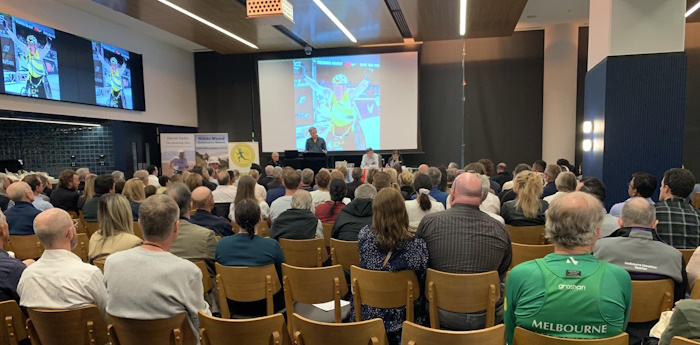 The two photos below have been provided by Patty and Wayne Thompson.

August Newsletter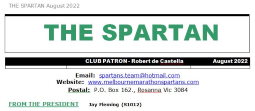 View or download the August 2023 newsletter.
From the President:
Jay's thoughts go far and wide;
– Feelings;
– Annual General Meeting;
– Committee Members;
– Sell out of marathon;
– Membership Fees;
– and there is much more!
Story from Paul Burke;
Story from Anne Ziogos;
Life story of Godfrey Pollard;
Spartan Tattoos
We have collected photographs from members who have shown their pride in being Spartans by getting a tattoo.


Pakenham Parkrun Spartans
Derek Clayton Interview
One time marathon world record holder Derek Clayton interviewed by Neil Mitchell. Derek is now 80 years old, no longer runs, but manages to ride 50km three or four times a week.
Derek was involved in the administration of the Melbourne Marathon in the early years, and also featured as an AGM speaker.
2022 Spartan Numbers have Been Allocated
All incoming Spartans have now been notified of their lifetime Spartan number. See the updated list of all Spartans.
2022 Finish Photos Have Been Published
Photos taken at the Spartan podium after the finish line have now been published.
Spartans Stand at Marathon Expo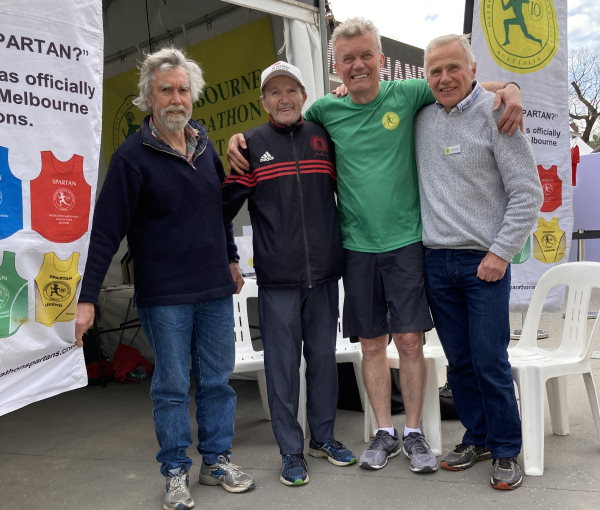 Our stand at the Expo will be active from Thursday to Saturday. Please come along to have a chat and perhaps browse some memorabilia or buy some merchandise.
The picture at left shows Ken Watt (S844) , Colin Silcock-Delaney (S147), Jay Fleming (S1012) and David Foskey (S25) outside the stand Thursday. 128 MMs total!
New, Melbourne Based Supplier of Club Jackets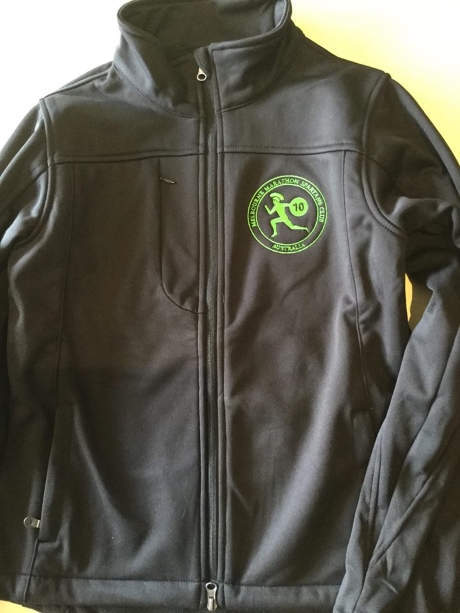 We now have a new supplier of club jackets. See here for details.
Fully Promoted St Kilda (formerly EmbroidMe), are at 290 St Kilda Road, St Kilda. Victoria. 3182 (near Inkerman St).
They have jackets in store, so you can visit them if you are unsure about sizing.
PDF of Victorian Marathon Club (VMC) History
The VMC was an integral part of Victorian running history between 1946 and 1994. We have made available a PDF of a memoir covering its history. Recommended reading.
February 2022 Newsletter Released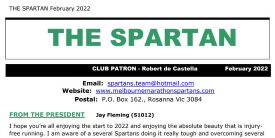 View or download the February 2022 newsletter.
"From the President" looking forward to an exciting year ;
Spartans Calendar – do you aspire to be Ms/Mr May? (page 10);
Darren Chester MP shares his running story (page 3)
Vale Westly Windsor (page 2)
Want a club T-Shirt? – order now! (page 8)
2021 Results Processed
We have now allocated numbers to new Spartans and updated the listings for Hall of Fame runners, including Spartans who have run at least 15 Melbourne marathons.
2021 Melbourne Marathon Has Been Run, Finish Photographs Posted
Some 26 months after the 2019 Melbourne, the 2021 marathon has been run with close to 5000 finishers. The organisers must be thanked and congratulated for a successful event.
We greatly missed our Spartan tent, and the Expo, but the photographs at the finish should become a feature of future marathons. Felicity Doolan, Paul Basile and Colin Silcock-Delaney took many photos! Photos have now been posted here and there are more here.
Congratulations to all Spartans who competed. Our singlets were everywhere! Registration Secretary Felicity Doolan has sent letters to all runners who completed their tenth, recognising the feat and allocating lifetime Spartan numbers.
Channel 9 December 12 This is the Channel 9 News story the evening of the marathon. John Dobson (1min10) and Ian Gainey (1m20) are interviewed.
Channel 7 December 12 John and Ian are both interviewed early in the Channel 7 News story shown on the evening of the marathon.
The five Spartan Legends (John Dobson, David Foskey, Bruce Hargreaves, Wayne Thompson and Roger Weinstein) all finished. There was attrition, however, amongst those who had only missed one. Nev Gardner and Dennis Nish did not start due to health and injury issues. Bryan Flegg did start despite a knee injury which had greatly reduced his training capacity but was unable to finish. Charles Harcoan finished his 42nd in the tidy time of 5:39 a week before his 82nd birthday! Jim Hopkins and Ian Campbell both ran their 41st. Grayson Summers became the 13th Spartan to reach 40. Ken Bowes who had run 40, decided that 2021 was the time to drop back to the half, possibly because he turned 89 a week ago!
Stuart Thompson has taken this video of the start in MP4 format. It is six minutes long and many Spartans will be able to identify themselves. Wayne Thompson appears at the 50 second mark and high-fives his family. Bruce Hargreaves and Kerry Clapham go by at one minute 50 seconds.
The youtube video of the livestream (5plus hours) is here. Highlights include David Foskey at 8m15 dispensing wisdom to first timers which he then ignored himself, the start is at 18m20, the wheelchair start (Ian Gainey in his 30th) at 1h12m, the male winner from 2h27m and the female winner from 2h42m.
Official Results and Digital Booklet Timing
Although the results as published are close to complete, there is a possibility that more changes will be made in the following weeks. The digital booklet of all results is expected to be shared in mid January 2022.
This is an old-timer's digression, but in the good old days the printed result book always arrived just in time for Christmas.
Legends Radio Interview

The five Legends and Ian Gainey were interviewed on Sporty a radio National program. You can hear it online at anytime.
Marathon Mission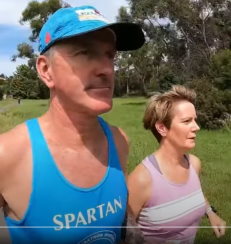 Andrew Prestney (S1147) is the father of Josh Prestney who was one of the four police officers who died in the infamous Eastern Freeway crash. Josh was a keen runner, and Andrew is running this year's Melbourne Marathon in his honour. Channel 7 News featured Andrew and Belinda (pictured at left in a still from the video) in a recent News story.
It will be Andrew's 16th Melbourne having earned his blue singlet in 2017. His best time was 3 hours and 50 seconds in 2009.
Andrew has given permission for us to link to the video.
Albert Melbourne Parkrun – the first 10 Years
Vin Martin (S0478) has written a history of the first 10 years of Albert Parkrun which was Melbourne's first Parkrun, and remains the biggest. Run Director Scott Watkins has contributed many photographs and additional text.

Just a suggestion: if you are a Parkrunner without another club affiliation, nominate "Spartans" as your club.
Photos of Spartans Running on the 10th of October
Sunday October 10 was the original date for the 2021 marathon so we asked Spartans to send us photographs from their training runs. Many were out and about on a day that would have been ideal for the event. We had many photos.
2021 Nike Melbourne Marathon – Sunday, 12 December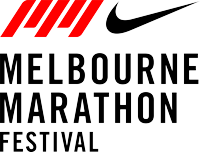 The 2021 Melbourne Marathon has been rescheduled to start at 6am, Sunday the 12th of December. The half marathon will also be held on Sunday. The 10km, 5km and 3km events will be run on the afternoon of Saturday 11 December.
Latest information is on the Melbourne Marathon website.
See a Channel 9 News story
2021 Annual General Meeting, September 13
The AGM was again successfully held over Zoom. In lieu of physical singlet presentation, the names of incoming and milestone Spartans were read to the meeting, and those present were acknowledged by the meeting.
Marcus Gale – Vice President, Events – IMG addressed us and released the current plans for the 2021 event as shown above.
Spartan Legend Bruce "Digger" Hargreaves was the speaker and his multi-media presentation was very well received.
Burnley Runners History
Spartan Vin Martin has written the definitive history of the Burnley Runners. More details and download here.
Nike is New Major Sponsor for 2021 Marathon!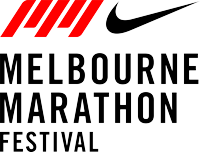 Melbourne Marathon has announced that Nike is to be the major sponsor of the Melbourne Marathon Festival for 2021 and following years.
"2019 was a record year for participation and we're excited to return this year as the Nike Melbourne Marathon Festival," said Marcus Gale, Event Director for IMG. "We're dedicated to creating a unique marathon experience for runners and are confident this partnership with Nike will cement our position locally as the preeminent Marathon Festival in Australia, and propel the Nike Melbourne Marathon Festival into global significance."
Legend Wayne Thompson Article in "The Senior"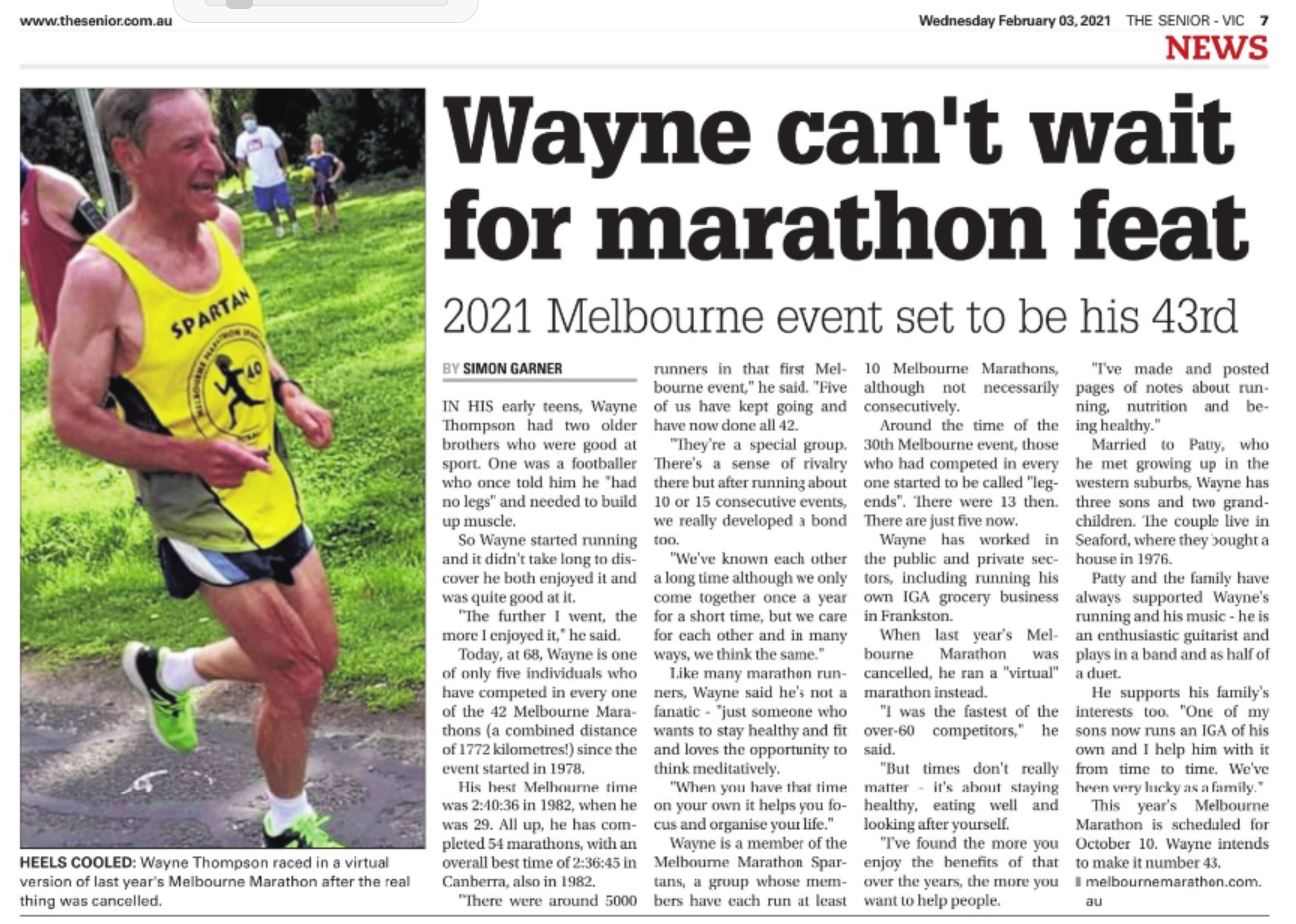 Wayne Thompson's virtual Melbourne Marathon is the subject of a recent story in the Victorian edition of "The Senior". Click on the image at left to see a readable version of the story.
We are always interested in stories of Spartans. Here is one that goes back to 2019 featuring Ken Bowes.
Virtual Melbourne Marathon
The virtual Melbourne Marathon was run in the period December 5 – 13. See here for results. Almost 4000 people participated over the five distances including an unknown number of Spartans.
If you would like to share your experiences please contact David Foskey at [email protected]. See this page for contributions so far.
2020 Online Annual General Meeting
Our 2020 Annual General Meeting was held online via Zoom on the 14th of September. We estimate that close to 100 Spartans and guests joined us.
Highlights of the meeting:
John Dean stood down from the committee after 32 (yes thirty two) years of service to the club;
Other members of the 2019-2020 committee were re-elected. John Zeleznikow and Kai Ooi joined the committee.
As singlet presentations were impossible, the names of incoming and milestone Spartans were read out. Those present at the meeting were congratulated, and through the wonders of Zoom, appeared on the screens of all meeting participants;
Marcus Gale, Events Director IMG, spoke of the many issues IMG faced in attempting to find a way to hold the 2020 event and the reasoning behind the virtual event.
We can't publish the normal series of AGM photographs but the above photograph shows some of the members present before the meeting officially started. There are a small number of photos here.
2020 Melbourne Marathon Cancelled
We note with regret that the 2020 Melbourne Marathon has been officially cancelled, although all Spartans have long realised that it would not be possible for it to be run.
Melbourne Marathon has announced that there will be a virtual Melbourne Marathon offered from the 5th to the 13th of December. We encourage Spartans to participate in this event, but the Spartans Committee recently decided that a virtual run would not be recognised as an official Spartan marathon.
There are several reasons, including:
We believe that everyone should run under the same conditions, on the same day and on the same measured and marshalled course;
The December date could see dangerously hot conditions for Melbourne runners;
The change in date and recent uncertainty means that most Spartans will have had their training schedules severely disrupted;
We believe that times in a virtual marathon will be slower than for a normal event, and some Spartans would be in danger of missing the cut-off time;
The organisers of the New York and other international marathons are not considering virtual marathons as official events;
The very small number of runners who cheat might view the virtual conditions as an opportunity.
Incoming Spartans who have paid their membership for 2020/21 will be made financial for 2021/22.
Spartans Strava Group Created
In order that we can stay in closer contact as a group and also possibly set up a few unofficial Spartan training runs, we have set up a Melbourne Marathon Spartan Strava group.
For those that are new to Strava, it is currently the world's number 1 app for runners to log their training runs. No GPS watch is necessary (though obviously useful) and technically no smart phone is either, as you could also manually upload your runs to it, or simply just use it to see what other runs people are doing, so that you get some inspiration or ideas about running routes.

We look forward to seeing you on Strava and out on the runs.
Videos We Have Found While In Isolation
Ross Tucker, a South African exercise scientist, talks about the links between exercise and our immune systems. Ross studied under "Lore of Running" author Tim Noakes. Here is a second video dealing with the effects of detraining, and ways of reducing fitness loss. Here's one that investigates the link between exercise and aging Spoiler alert: exercise is a really good idea if you want to age more slowly.
For those of us missing Parkruns, here are the five toughest UK runs.
Not a video, but a story about a very fit 70plus Melbourne runner, Tony Guttman, who contracted Covid-19. Tony often wins his age group at Albert Parkrun, has run a few Melbournes, but is not a Spartan.
Bruce Hargreaves has set up a Youtube Channel which links to a large range of running related videos, including several from early years of the Melbourne Marathon.
Here's a podcast featuring Bruce "Digger" Hargreaves. It is more Comrades focussed but Bruce does explain his introduction to running and his first Melbourne. Bruce's interview starts about 45 minutes in.
If you have found something that might be of interest to house bound Spartans, contact [email protected]
2019 Marathon Completed
The 2019 Melbourne Marathon was run in very good conditions with an Australian record number of finishers. There seemed to be a lot of Spartan singlets on the course which is always great to see. We would like to congratulate all finishers, and especially those who completed their tenth Melbourne.
Incoming Spartans have been notified of their Spartan numbers. They are now included on the list of all Spartans.
We obviously can't speak for everyone, but it seems that we had very few non-finishers. All starters with 40 or more Melbourne marathons finished. Ken Bowes, who is 86, completed his 40th. Seeing he missed the first two, that is 40 consecutive Melbournes. Jim Hopkins turned 70 on marathon day, and couldn't think of a better way to celebrate than running his 40th Melbourne. Ian Campbell was unable to start in 2018 but also brought up his 40th in 2019. Congratulations to Ken, Jim and Ian.
Anyone who has a story or photographs of marathon day is invited to contact [email protected]. We are starting to build a page of photos taken before, during and after the marathon.
The five remaining Legends were featured on the Channel 7 News on Saturday night.
The official results are now available. Here's an extract: "Special mention also to Charles Harcoan, who turns 80 in December, and finished in 5:27.30, well inside Antony Martin's 80-84 best of 5:38.09. Chas missed the first Melbourne race in 1978 but has completed every one since, but he'll have to wait till next year to remove Antony's mark." It would be sad to see Tony's (S0133) mark broken, but Chas (S0120) would be a worthy record-holder.
2019 AGM Held
The 2019 Annual General Meeting of the Melbourne Marathon Spartans was held Monday, September 16 at the Melbourne Cricket Ground. There was a big crowd in the AFL Dining Room which saw a large number of singlet presentations. Guest speaker Doug Wilson took us on a journey through his life which will not be forgotten by his audience. Fascinating and detailed as the talk was, Doug's book is recommended reading. The book will also be available at the pre-race expo.
The photographs taken on the evening have been posted. See here.
Active Feet Store Visits
Some Spartans spent part of a recent Saturday visiting Active Feet stores.
Not on our mailing list? Click here.
Page Showing Every Finisher Medal
See a new page that shows images of every finisher medal..
2018 Marathon Completed
There weren't many personal bests for the 41st running of the Melbourne Marathon. Conditions were trying with above normal temperatures and some wind. A larger than normal number of runners required treatment for dehydration and the effects of heat. The record number of inductees at the recent AGM undoubtedly lead to many more green singlets in the field, 242 Spartans according to our count. We have four new 40 year runners: Bryan Flegg, Nev Gardner, Chas Harcoan and Dennis Nish. Five of the Legends finished with Frank Biviano unable to start because of injury. We welcome Tyler Parfuss, a third CPEC student, as an honorary Spartan.
The electronic results book for the 2018 Melbourne Marathon Festival can be read or downloaded from from here.
We have updated the All Spartans page with the 2018 inductees.
Friday at the 2018 Expo
A session on the Spartans stand at the Expo means we get to meet a range of Spartans and runners. We talk to visiting German ladies who are running the 10km, runners who are five or one run away from their green singlet and 30 year plus Spartans. Sonia O'Sullivan was one of the many who dropped in for a chat.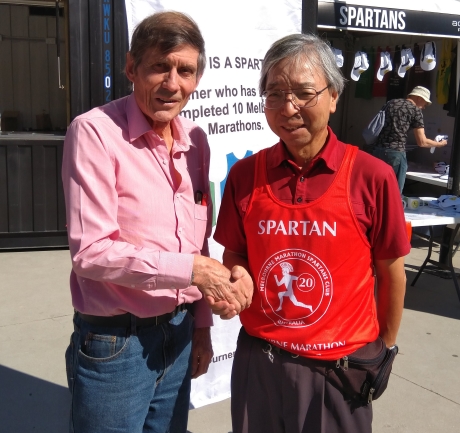 We have a small number of members resident overseas but Mitsuo Yonemori must be our most dedicated. Mitsuo is running his 20th Melbourne in 2018 and dropped in to the tent to pick up his red singlet on Friday afternoon after his flight arrived from Japan. We are greatly honoured that Mitsuo is a member and perhaps we will present him with a black singlet in five years.
Mitsuo kindly answered a few questions from us some years ago.
Treasurer Rod Bayley is pictured with Mitsuo at left.
What's New?
We've made a few recent changes:
View or download the MCG Map