Spartan Buffs
A few of our members, including me, are wearing Spartan buffs as masks while running. See Jon Holmes at the left in the photo group below. (The party shot was taken pre-Covid.) They are washable and dry quickly. Buffs are available for sale at $16 which includes postage. For enquiries and orders contact David Foskey at djfoskey@ozemail.com.au.

We also have a new range of caps and visors, see our merchandise page.
Spartans Strava Group Created
In order that we can stay in closer contact as a group and also possibly set up a few unofficial Spartan training runs, we have set up a Melbourne Marathon Spartan Strava group.
For those that are new to Strava, it is currently the world's number 1 app for runners to log their training runs. No GPS watch is necessary (though obviously useful) and technically no smart phone is either, as you could also manually upload your runs to it, or simply just use it to see what other runs people are doing, so that you get some inspiration or ideas about running routes.

We look forward to seeing you on Strava and out on the runs.
June 2020 Newsletter Released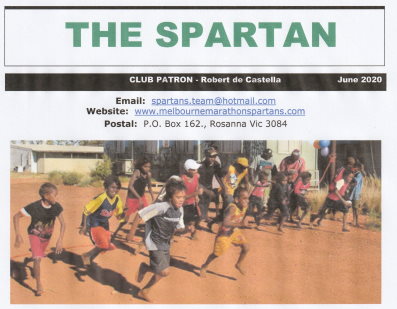 View or download the June 2020 newsletter.
Highlights:
Two Accounts of Virtual Marathons Completed by Spartans.
Details of Comrades (June 14) and Indigenous Marathon Foundation virtual events.
Stories of Ian Gainey, Barry Dobyn and Dave Obelkevich.
Club Run held May 31
See here for photos and comments for our most recent club run.
Videos We Have Found While In Isolation
Ross Tucker, a South African exercise scientist, talks about the links between exercise and our immune systems. Ross studied under "Lore of Running" author Tim Noakes. Here is a second video dealing with the effects of detraining, and ways of reducing fitness loss. Here's one that investigates the link between exercise and aging Spoiler alert: exercise is a really good idea if you want to age more slowly.
For those of us missing Parkruns, here are the five toughest UK runs.
Not a video, but a story about a very fit 70plus Melbourne runner, Tony Guttman, who contracted Covid-19. Tony often wins his age group at Albert Parkrun, has run a few Melbournes, but is not a Spartan.
Bruce Hargreaves has set up a Youtube Channel which links to a large range of running related videos, including several from early years of the Melbourne Marathon.
Here's a podcast featuring Bruce "Digger" Hargreaves. It is more Comrades focussed but Bruce does explain his introduction to running and his first Melbourne. Bruce's interview starts about 45 minutes in.
If you have found something that might be of interest to house bound Spartans, contact djfoskey@ozemail.com.au
2019 Marathon Completed
The 2019 Melbourne Marathon was run in very good conditions with an Australian record number of finishers. There seemed to be a lot of Spartan singlets on the course which is always great to see. We would like to congratulate all finishers, and especially those who completed their tenth Melbourne.
Incoming Spartans have been notified of their Spartan numbers. They are now included on the list of all Spartans.
We obviously can't speak for everyone, but it seems that we had very few non-finishers. All starters with 40 or more Melbourne marathons finished. Ken Bowes, who is 86, completed his 40th. Seeing he missed the first two, that is 40 consecutive Melbournes. Jim Hopkins turned 70 on marathon day, and couldn't think of a better way to celebrate than running his 40th Melbourne. Ian Campbell was unable to start in 2018 but also brought up his 40th in 2019. Congratulations to Ken, Jim and Ian.
Anyone who has a story or photographs of marathon day is invited to contact djfoskey@ozemail.com.au. We are starting to build a page of photos taken before, during and after the marathon.
The five remaining Legends were featured on the Channel 7 News on Saturday night.
The official results are now available. Here's an extract: "Special mention also to Charles Harcoan, who turns 80 in December, and finished in 5:27.30, well inside Antony Martin's 80-84 best of 5:38.09. Chas missed the first Melbourne race in 1978 but has completed every one since, but he'll have to wait till next year to remove Antony's mark." It would be sad to see Tony's (S0133) mark broken, but Chas (S0120) would be a worthy record-holder.
2019 AGM Held
The 2019 Annual General Meeting of the Melbourne Marathon Spartans was held Monday, September 16 at the Melbourne Cricket Ground. There was a big crowd in the AFL Dining Room which saw a large number of singlet presentations. Guest speaker Doug Wilson took us on a journey through his life which will not be forgotten by his audience. Fascinating and detailed as the talk was, Doug's book is recommended reading. The book will also be available at the pre-race expo.
The photographs taken on the evening have been posted. See here.
Active Feet Store Visits
Some Spartans spent part of a recent Saturday visiting Active Feet stores.
Not on our mailing list? Click here.
Page Showing Every Finisher Medal
See a new page that shows images of every finisher medal..
2018 Marathon Completed
There weren't many personal bests for the 41st running of the Melbourne Marathon. Conditions were trying with above normal temperatures and some wind. A larger than normal number of runners required treatment for dehydration and the effects of heat. The record number of inductees at the recent AGM undoubtedly lead to many more green singlets in the field, 242 Spartans according to our count. We have four new 40 year runners: Bryan Flegg, Nev Gardner, Chas Harcoan and Dennis Nish. Five of the Legends finished with Frank Biviano unable to start because of injury. We welcome Tyler Parfuss, a third CPEC student, as an honorary Spartan.
The electronic results book for the 2018 Melbourne Marathon Festival can be read or downloaded from from here.
We have updated the All Spartans page with the 2018 inductees.
Friday at the 2018 Expo
A session on the Spartans stand at the Expo means we get to meet a range of Spartans and runners. We talk to visiting German ladies who are running the 10km, runners who are five or one run away from their green singlet and 30 year plus Spartans. Sonia O'Sullivan was one of the many who dropped in for a chat.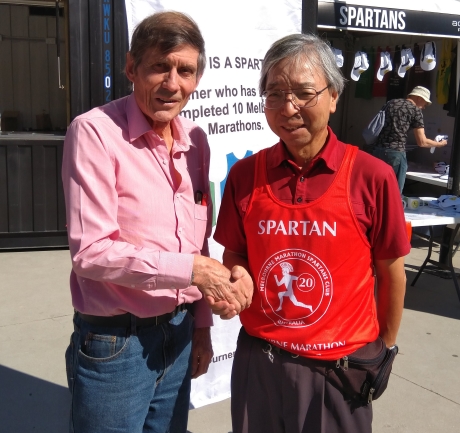 We have a small number of members resident overseas but Mitsuo Yonemori must be our most dedicated. Mitsuo is running his 20th Melbourne in 2018 and dropped in to the tent to pick up his red singlet on Friday afternoon after his flight arrived from Japan. We are greatly honoured that Mitsuo is a member and perhaps we will present him with a black singlet in five years.
Mitsuo kindly answered a few questions from us some years ago.
Treasurer Rod Bayley is pictured with Mitsuo at left.
What's New?
We've made a few recent changes:
2018 Annual General Meeting
The 2018 Annual General Meeting was held on October 2 at the MCG. There was a record attendance and a record number of incoming Spartans, plus a presentation to our third honorary Spartan and the presentation of two Life Memberships. Guest speaker Sonia O'Sullivan gave a fascinating account of her career and revealed many insights into her training.
There is a page holding all photographs.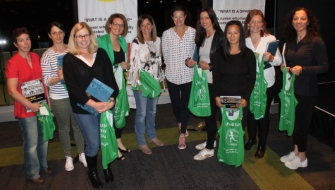 There were so many incoming Spartans that a group shot of the entire group was impossible. This photo shows the women.
These gentleman will each be running their 40th Melbourne Marathon this year.
Manny Karageorgiou
It is with great sadness that we report that Legend Manny Karageorgiou (S0045) lost his long battle with Multiple Myeloma January 4th 2018.

Manny is third from left in this photograph with the other Spartan Legends prior to the start of the 2017 marathon. He knew that he was too ill to complete the event, but was determined to start, wearing his gold 40th singlet. The Legends were delighted to see him, but greatly saddened by the thought that he would be unable to finish.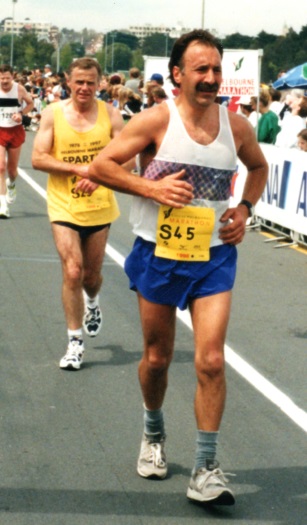 His fastest marathon of 3hr26min51sec was set in 2001. We don't have many pictures of Manny, but the image at left shows him leading me (David Foskey) home in 1998 in a time of 3hr42min. Two or three years ago I ran several kilometres with him along Beach Road, and I was impressed by the large number of relatives and friends who had come to watch and support him. He isn't wearing a gold singlet in this photograph, and I believe that he ran without a Spartan singlet in some other years. I'm not sure why, but it could have been excess modesty on his part.
See more information on Manny here and also as one of the Legends.
2017 Melbourne Marathon
The 40th Melbourne Marathon has now been run under ideal conditions. Congratulations to all Spartans who ran, whether they were running their 10th or qualifying for a singlet.
We were thrilled to host three ladies from the Teganuma Marathon.
Electronic Results book
Thanks to IMG, there is an electronic results book for the 2017 Melbourne Marathon Festival. A link was sent by email to all participants and to make it even more accessible you can read or download it from here.
2017 Annual General Meeting
The AGM was most successful with a record crowd, entertained and enlightened by guest speaker Rob de Castella.
A full set of photographs has been loaded on this page.
The picture below shows the 10 year Spartans with Rob de Castella at left.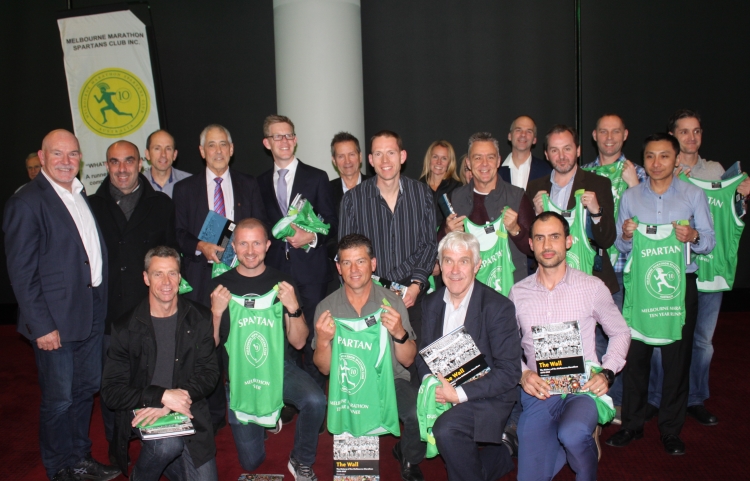 Herald-Sun Articles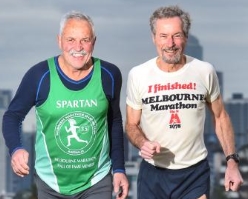 The Herald Sun has recently run two articles featuring Spartans. This first article appeared on June 18 and includes some of the Legends prior to the start. Wayne Thompson's grandchildren are pictured. Dennis Nish and Jim Hopkins (at left) both ran in 1978 and will be running in 2017. This was on the Herald-Sun, Geelong Advertiser and News.com.au websites on the 26th of June. It is also in the 27th of June print edition.
A full PDF of the June 18 feature is big and will be slow to load.
Spartans at VRR Time Trials
We now have a page showing photographs of Spartans at recent Victorian Road Runner Time Trials. This page has links to the VRR site.
Guide to Running from Legend Wayne Thompson
Wayne Thompson has provided a guide to running. His credentials are impeccable. Wayne will be running his 40th Melbourne this year as one of the Legends. In 2016 he ran the very smart time of 3 hours 33 minutes.
Vale Jack Gubbins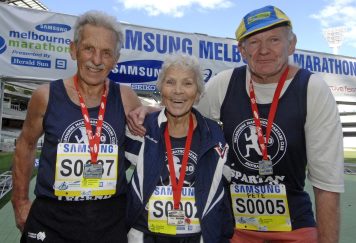 It is with great sadness that we report that Jack Gubbins (S0037) passed away suddenly on Saturday March 11, a few days prior to his 88th birthday.
Jack was one of the original "Legends" who completed the first 30 Melbourne Marathons. His athletic career included 51 marathons and a number of Ironman triathlons. The trophy for the fastest male Spartan each year is named in his honour.
Jack was regarded by all who knew him as a true gentleman. The photograph shows Jack with fellow Legends Shirley Young and Peter Battrick. The April newsletter included a tribute written by Pete Battrick.
See 2007 video.
2016 Marathon Over
The weather gods were relatively kind on the 16th except for some wind. Watching the drink cups blowing down the road brought home just how much we owe the volunteers, staff, and police who help make our event possible.
Many Spartans went back to the tent to enjoy snacks, drinks, and a massage. We will publish the full Spartan results when they are available.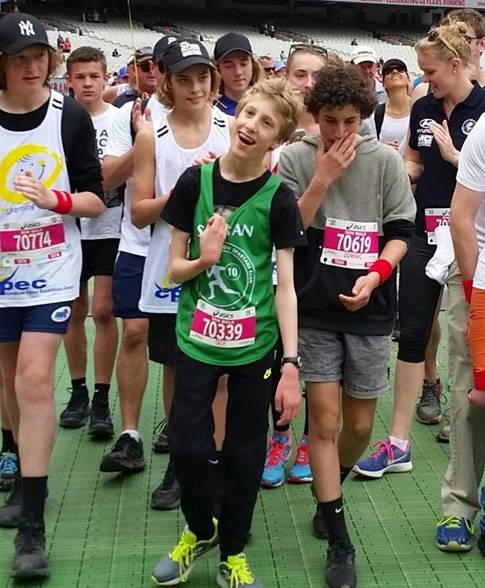 The photo at left shows honorary Spartan Tate Kemp near the finish line.
Fellow honorary Spartan Brenton Ponza features in this video made before the event. Like Tate, Brenton is proudly wearing his Spartan singlet.
The Herald Sun report is here.
The photo below was taken at the Expo in front of the Spartan tent. Pictured are John Kaparelis (committee member), Jane Sturzaker, and David Foskey(committee member). Jane was two days away from running her 200th marathon, and her 18th Melbourne.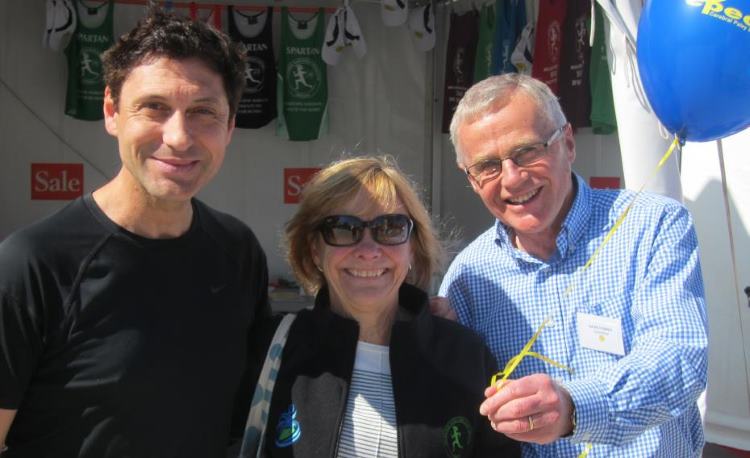 If you have some 2016 marathon photos featuring Spartans, please send them to djfoskey@ozemail.com.au, and we'll create a page.
2016 AGM
A very successful 2016 Annual General Meeting was run on September 19. Many singlets were presented, including our first honorary Spartans and three members were inducted into the Hall of Fame. Tom Denniss gave an inspirational talk on his run around the world.
See here for photographs.
Two Honorary Spartans
Tate Kemp and Brenton Ponza attended our AGM on September 19 to be inducted as honorary Spartans. Click on the links to learn more about two inspirational young people.
Shirley Young.
Spartan Legend Shirley Young peacefully passed away on July 8 2016 after a long illness. The President and Committee of the Melbourne Marathon Spartans Club wishes to extend condolences to Shirley's husband Ron, her family and friends.
Shirley was the only female among the 13 Legends who reached 30 Melbourne Marathons, 1978 to 2007. Her Melbourne Marathon record is outstanding, but it only constitutes part of a magnificent running career.
Tan Run with Bruce Fordyce, 9am Sunday July 17, 2016.
See here for pictures and description of the run.
New Financial Members page added
We've added a page, courtesy of Treasurer Rod Bayley, that lists all financial members . Check it if you aren't sure whether you've paid.
PDF of 2015 results
ausrunning.net has made available a PDF of the 2015 results. Spartan numbers are included!
2015 Annual General Meeting
The meeting was held on September 14. Lavinia Petrie gave an inspirational talk and handed out singlets. Photographs have now been posted. The photo below shows the incoming Spartans after singlets were presented.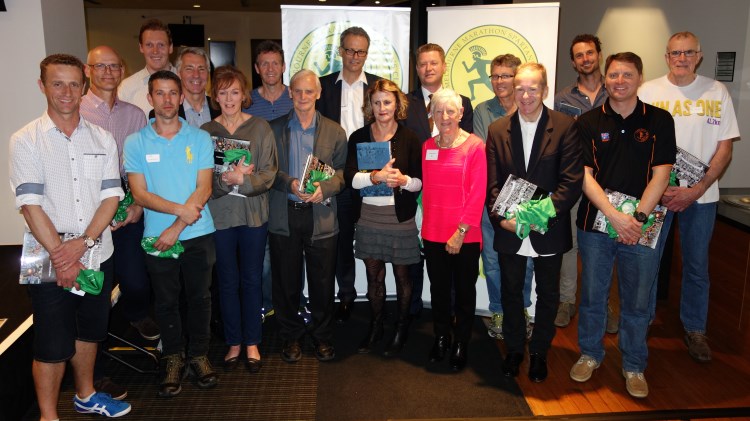 Race Photographs
John Dean has made available an archive of images of the Melbourne Marathon covering the period 1978 to 2010.
Club Run – 5 July 2015
Our first club run for 2015 attracted 17 runners who did one or two laps around the Tan, then adjourned to the Jardin Tan eatery for refreshments.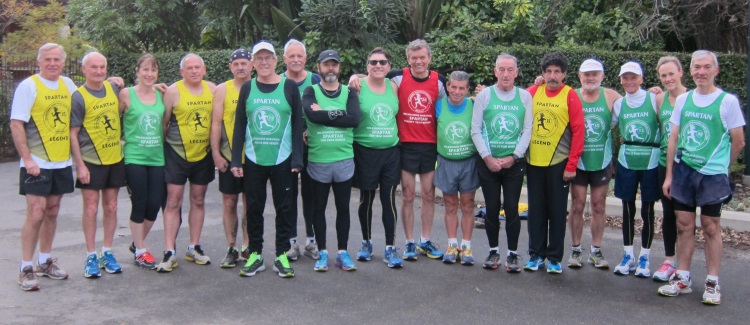 David Foskey, Nev Gardner, Cath Bombardieri, Roger Weinstein, John Dobson, Peter Ryan, Dennis Nish, Justin Hansen, Mike Zervos, Jay Fleming, Ray Cilia, Brian Walsh, Frank Biviano, Bryan Flegg, Antony Martin, Felicity Doolan, Carli Iovenitti.
More details and photographs here on the Club Runs page.
Incoming Spartan Jogging through Ireland
Simon Chodziesner will run his 10th Melbourne Marathon this year. His training regime includes running from the southern tip of Ireland to the northenmost tip in 18 days. Distance is 570k. He is raising money for Cystic Fibrosis Victoria in Australia and Friends of Letterkenny General Hospital in Ireland. Details of the run and how to donate here and Facebook page here.
Spartans in June July run4yourlife magazine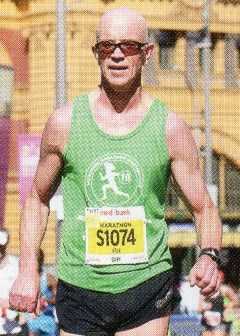 The latest issue of run4yourlife magazine uses pictures of some Spartans to illustrate training plans for the Melbourne Marathon. Check out their website.
On the left is Gary Russell. not far from the finish of his 14th Melbourne.
On the right are legends Wayne Thompson and John Dobson at the start. See the Melbourne Marathon site Spartans page to see more photos of Spartans.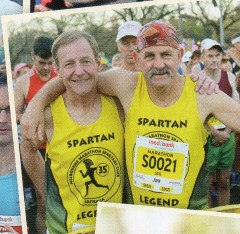 Legend Nev Gardner also umpires football!
See a recent newspaper article on the occasion of Nev's 800th game – pity they couldn't spell his name correctly, but hey, they were close!
Eric Heine – Marathon des Sables
Eric Heine (S0872) has entered the 2015 Marathon des Sables with his son and some friends. They are supporting Robert de Castella's Indigenous Marathon Project. Full details on this page.
April 18 Edit. Eric and the team have completed this unique event and have posted details. It is a fascinating read.
Rohan King
See here for a tribute to Rohan King S1038.
2014 Results
See Ausrunning.net for a PDF of the 2014 results. Spartan numbers included, even 2014 inductees! All events are on this PDF.
Pre and After Race photos
See this page for some photos from the expo and from the Spartans tent after the run.
2014 – 39 New Spartans
We've updated our list of all Spartans with 39 new runners. Congratulations! The hot conditions and injury prevented a small number of runners completing their 10th – we hope that 2015 will be the year for them.
The times for all Spartans will be added when available.
2014 Marathon Run
6415 runners completed the 2014 Melbourne Marathon on the hottest day for more than 6 months. Over the next few weeks we will list the Spartans who completed the race and issue numbers to those who became eligible by running their 10th Melbourne Marathon.
The pre-marathon expo was marked by an effort to meet as many Spartans and other runners as possible, and to sell some merchandise. Copies of "The Wall" were popular, as were our Spartan logo mugs. We still have many of the older Spartan singlets available for those who want a training singlet or a memento. See this page for some photos from the expo.
In the News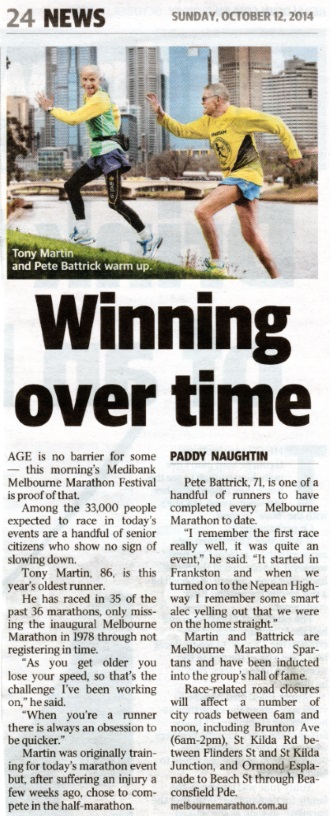 The article at left appeared in the Herald-Sun on the morning of the marathon. Somewhere along the line, Tony decided to run the marathon which he duly completed.
Pete finished his 37th Melbourne Marathon but outside the cut-off time of 7 hours.
Rory Wilson (S0431) was unfortunately badly injured in a road accident earlier in the year. This article gives details of some fund raising efforts on Rory's behalf..
2014 AGM Held
The Annual General Meeting was held on the 15th of September at the MCG. There were more than 140 Spartans, family and friends in attendance. Guest speakers Janette Murray-Wakelin and Alan Murray kept everyone enthralled as they described running 366 marathons in 366 days while circling Australia. They are passionate and persuasive advocates of a raw vegan lifestyle.
Images from the night are shown here.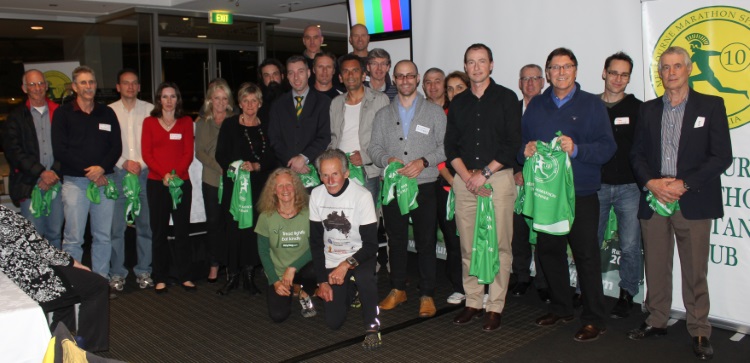 The image shows Alan and Janette with the 10 year Spartans after they had received their singlets.
PDF of 2013 results
As most people now know there was no results book published for the 2013 Melbourne Marathon.
We recently received this email (below) from Mike Peters of ausrunning.net.
Melbourne Marathon 2013 results including marathon, marathon wheelchair, 21km, 10km, and 3km in a PDF document. PDF is searchable and Spartan numbers are appended to names. http://ausrunning.net/misc/melbournemarathon2013.pdf
PDF can be verified with official results: http://www.multisportaustralia.com.au/Home/QuickResults?clientId=1&raceId=931&raceName=Melbourne%20Marathon
To the best of my knowledge the 2012 results booklet was the last published for an Australian marathon. Excepting the Melbourne Marathon, the last published booklet was 2010 "Cities" Marathon (Western Sydney).
Recent News
Bruce "Digger" Hargreaves writes of his experiences in the 2014 Comrades ultra marathon. Highly recommended.
John Kaparelis shares his story as a first time pacer.
2013 Melbourne Marathon has been run
October 13 was ideal for marathon running and many runners were pleasantly surprised by their times. The number of runners having massages was a little down, probably due to the cool afternoon. Colin Silcock-Delaney, Jack Fredrickson, and John Dean made sure everything ran smoothly.
All the 10 Legends finished. Ian Campbell, Bryan Flegg, Chas Harcoan, Antony Martin, Dennis Nish, and Richard Tann joined the ranks of Spartans who have completed 35 Melbourne Marathons. Tony Martin is shown below, using his 85 years of life experience to help Meri Moriguchi and and Phenchan Kavanagh across the line.
Spartan times for 2013 have now been entered.
Pictured at right is Ian Gainey who completed his 25th Melbourne, an effort unlikely to be ever equalled.
Spartans often have articles written about them in their local newspapers and Cyndi Nunn has recently featured in the Ballarat Courier. Some editions of the Herald Sun on September 22 carried a story about the Legends. The Age recently published a story featuring Hall of Fame member John Burt in his day job.
Thanks to Jane Sturzaker for Ian Gainey's photograph and to IMG for the photo of Tony Martin. If anyone has some images they would like to share, please send them to
spartans.team@hotmail.com.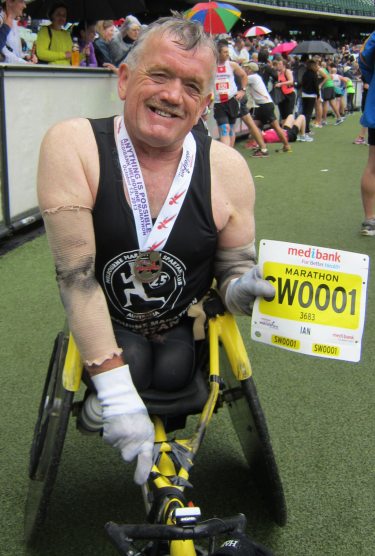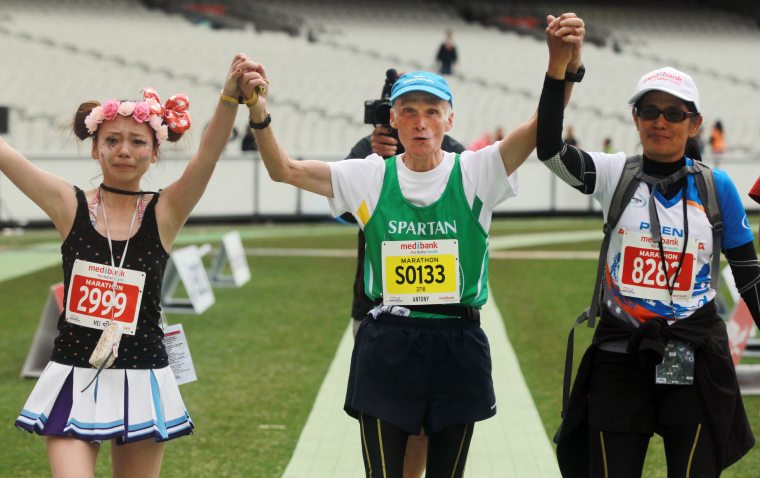 This year Cyndi Nunn became a Spartan, just like Mum (Jill) and Dad (Brendan). The picture at right shows how they celebrated.
There are a number of other Spartans who have similar tattoos, including two of the Spartan Legends. It is, however, unlikely that they will become compulsory.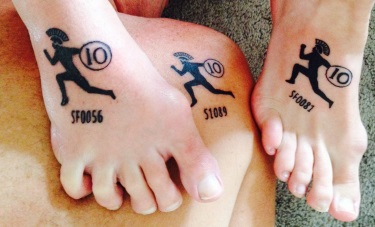 2013 AGM Photos
We have just published photographs from the 2013 AGM.
This was a great evening with many highlights:
– new singlets unveiled;
– presentation of singlets;
– Hall of Fame inductions;
– inspirational talk by guest speaker Tristan Miller;
– large attendance despite inclement weather.
New Shirley Young Story
Written by Kevin Cassidy and published in a recent edition of Ultra magazine, this story describes an aspect of Shirley's running history that might be unfamiliar to mere marathoners. Ultra magazine is published by The Australian Ultra Runners Association.
Message from our Patron
We have just published a message from Robert de Castella who is our patron and Australia's most successful marathon runner ever.
"The Wall: The history of the Melbourne Marathon 1978-2012"
This handsome hardback book is now available for purchase. You will be proud to display it on your coffee table and will pick it up to read the report of your fastest marathon, or look again at some of the 500 pictures it contains.
Who better to write this history than Chris Muirden who is a journalist, has been course director and has three Melbourne Marathon times under 2:46? The range of the book is extraordinary. There is a detailed report of the leading runners for each marathon. The administrators who made it possible are given their due respect. There are sections covering celebrities who have run and VFL/AFL footballers who have found it a far more difficult challenge than expected.
Chris made many discoveries while researching and some of the most insightful sections are the interviews with past competitors. These are interspersed as breakouts throughout the book. Seek out the sections on Shirley Young, Kylie Dick, and Russell Foley.
The Spartans are well covered with nine pages. Club formation is described and there are interviews with the Legends and the "Almost Legends". Not surprisingly, Spartans also feature strongly throughout all pages.
Order direct from Chris via email at muirden@iprimus.com.au. It is also available at Dymocks book stores – seen in Camberwell and Bendigo, so probably available everywhere.
Who are the Spartans?
Melbourne Marathon Spartans have all completed at least ten Melbourne Marathons. Anyone who achieves this feat is allocated a number which is to be worn for all subsequent Melbourne Marathons. Spartan singlets are issued when a runner reaches 10, 15, 20, 25 or 30 runs. 201 Spartans completed the 2012 marathon, and 35 new Spartans ran their tenth. After the 2012 running there are 1144 men, 78 women and 2 wheelchair Spartans. The 2012 results are here.
Ten runners have completed all 35 runs from 1978 to 2012. These runners are designated Legends. A further 20 have completed at least 30. See the Hall of Fame page for a full list.
The Spartans Club
The Melbourne Marathon Spartans Club is incorporated and complies fully with its statutory requirements. The modest member fees are used to:
Run the Annual General Meeting. Guest speakers have included Robert de Castella (Club Patron), Steve Moneghetti and Derek Clayton.
Provide a tent, refreshments, and masseurs at the Marathon venue.
Printing of Singlets.
Publish a newsletter.
Send emails to members on our mailing list when we learn something of interest.
Maintain a database of all members.
In addition, we meet regularly with IMG to discuss various aspects of the Marathon.
If you aren't financial for 2018-19, please download the membership renewal form.
Joining the Spartans
If you have already run ten Melbourne Marathons, or plan to run your 10th in 2018:
Advise us of your marathon times, as accurately as possible. These will be confirmed by the club.
A good resource to find your times is the "Search for Runners" on AUSRUNNING.
Also advise us of your contact details and date of birth.
Pay the annual subscription fee for 2018-19.