2023 Photographs
Photographs taken at the Spartan finish podium in 2023 are here.
2022 Photographs
Photographs taken at the Spartan finish podium in 2022 are here.
2021 Photographs
Photos have now been posted here and there are more here.
October 10 2021
The 2021 marathon was scheduled for October 10 but was postponed to December. Here are some photographs from Spartans out and about.
2020 Virtual Marathons
A few Spartans ran virtual marathons in 2020 and this page links to their stories.
2019 Photographs
2019 event photographs are here
Race Photographs for Previous Years
Thanks to ex-President John Dean we have a large collection of race photographs. They are organised by years and for some years we have a lot (1978 – 400+), others very few (2004 – four). They were taken on behalf of the organisers of the early Melbourne Marathons.
The photographs have no descriptions, the quality varies, and there are some duplicates. If you can identify Spartans before they achieved their numbers, please let us know.
If you have some Melbourne Marathon photographs that we could use, we would be delighted to upload them.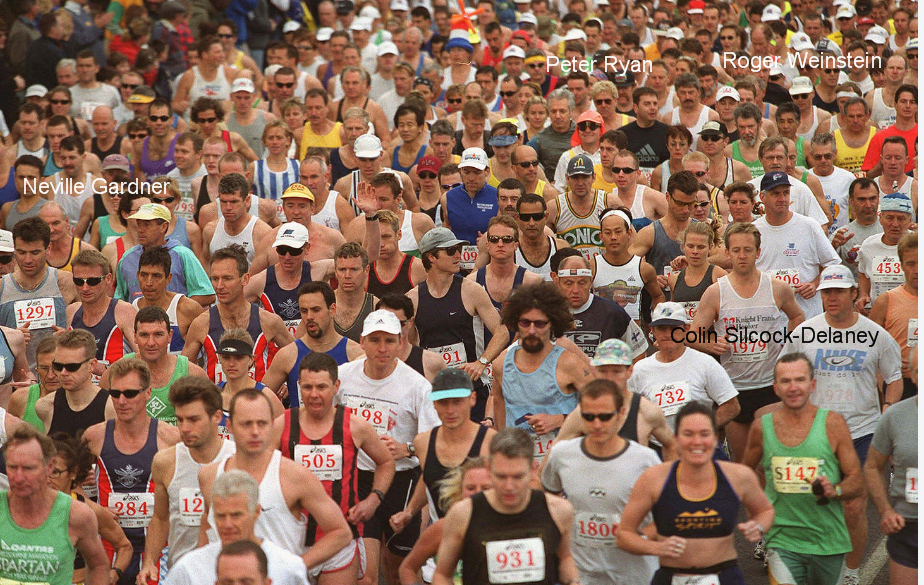 John Dean has identified four runners in this photo. Anyone else with some more names?
Mark Foley (S0979) has identified himself in the photo above: "I'm in there at about the mid-point between Neville Gardner and Colin Silcock-Delaney. I'm hatless, wearing a dark singlet and right in front of the left arm raised in the air."
Jim Yatomi-Clarke (S0530) is in the top right hand corner to the right of Roger Weinstein. Greg Wishart (S0162) is to the right of Jim.
Clarke Whitehand (S0160) has identified Kevin Chandley (S0311) in the bottom left hand corner. Peter Smith (S0717) has identified himself as being diagonally behind Kevin, in the third row. He has confirmed that this was the 2001 event.