Spartan Merchandise for Sale
If you wish to order a Spartan jacket, please click here.
Or, if you'd like one of the new Spartan T shirts (photos at the bottom of this page), please click here to order.
The items pictured below are available for purchase at the AGM or the pre-marathon expo. If you'd like to purchase an item at another time, contact the club to discuss details. Postage may apply.
The club bank account is: BSB: 633-000, Account: 13920 1743 Please make the reference as meaningful as possible when making a payment.
Buy from our on-line site
Bib Clips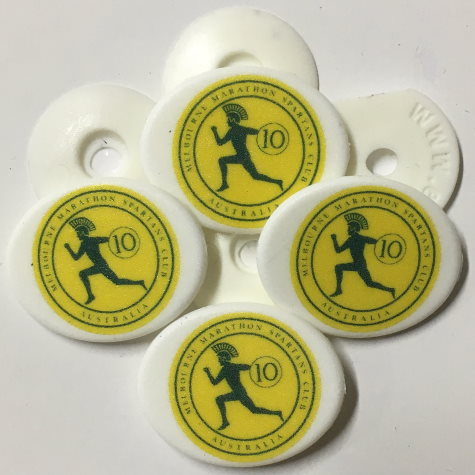 These are $5 a set.
Although they are new to us, they are in use in over 11,000 clubs world wide including a number in Australia. The clips are imported from Britain.
They can be used instead of safety pins or magnets to secure race bibs to singlets, so won't create pinholes. Each clip comes in two pieces, one to be placed inside the singlet, the other (with the image) has a prong that goes through the hole at the corner of the bib and clips into the rear piece.

Caps and Visors
We now have an expanded caps range, white and black, as well as visors. Both caps and visors are priced at $25.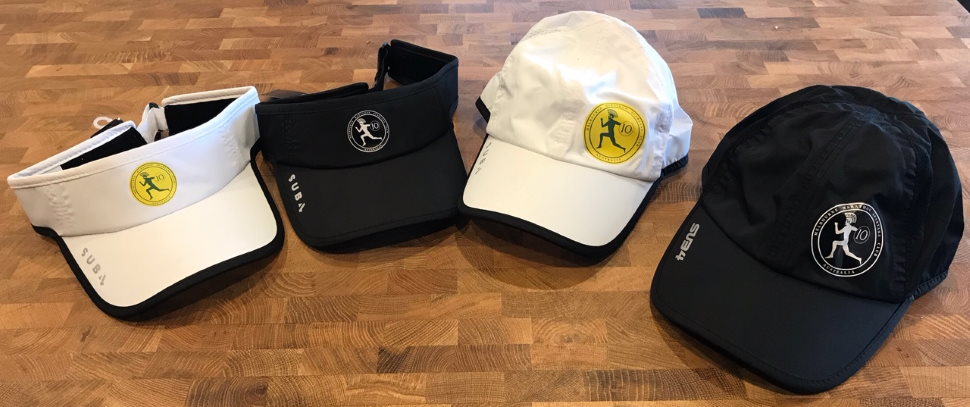 Buffs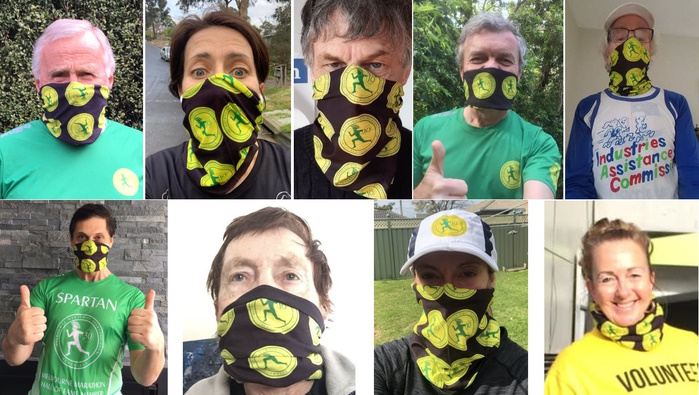 Buffs are back in stock!
There is now no need to wear them as masks, but they remain a very versatile clothing item.
Only $16.

Lapel Pins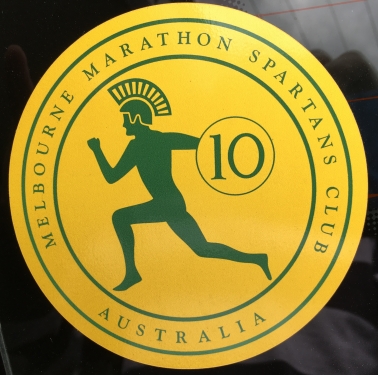 Car stickers are $2. They really, really make your car easy to find in a carpark!
The Wall – The History of the Melbourne Marathon 1978-2012 by Chris Muirden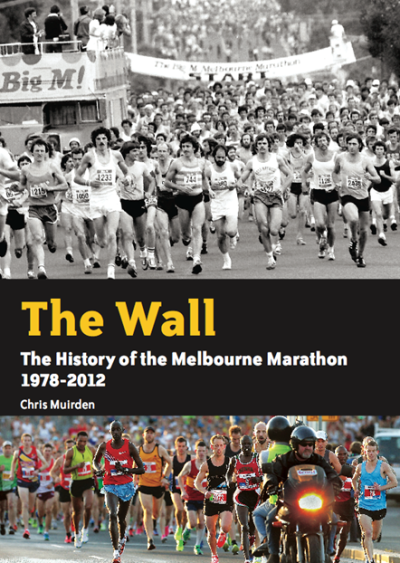 "The Wall" by Chris Muirden is the definitive history of the first 35 years of the Melbourne Marathon. Each race is fully described with with a race summary and significant details.
There are breakout sections telling the tales of individuals, some inspirational, some poignant. The Shirley Young story, for instance, is described in detail.
The Spartans are covered in a number of pages with pen pictures of those who completed 34 or 35 Melbourne Marathons in 2012.
It is a hardcover book of the highest standard.
For sale at $10 it is truly a bargain.

Singlets $45
These singlets are for sale only to qualified Spartans, and are normally presented at the Annual General Meeting of the club. Contact [email protected] if you need to order an extra singlet.
New T Shirts!
Female friendly, state of the art fabric, … Taking orders now.