The 2018 Annual General Meeting was held on the Monday the 1st of October with a record number of members present. Our speaker was Sonia O'Sullivan: Cross Country World champion, four time Olympian and silver medalist, former holder of the 2000m world record are just some of her achievements. Sonia took us through her career sharing her triumphs and some disappointments. She recounted her history of running her seven marathons as well giving insights into her training.
If you would like a higher resolution copy of a photograph, email [email protected] with the details.
This is definitely a first: Sonia has written an article prompted by the AGM!
Life Member Awards
Hall of Fame Inductees
Honorary Spartan, Tyler Parfuss
2017 Fastest Spartans
10 Year Spartans
15 Year Spartans
20 Year Spartan
25 Year Spartan
30 Year Spartans
35 Year Spartan
40 Year Spartans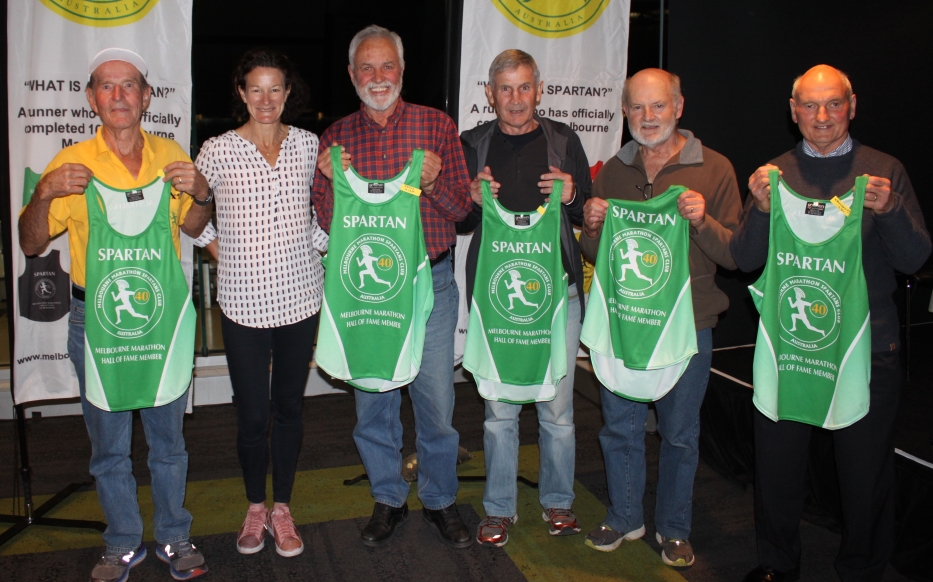 Chas Harcoan, Sonia O'Sullivan, Dennis Nish, Ian Campbell, Bryan Flegg, Nev Gardner
Miscellaneous

A view of some of the approximately 250 attendees before the meeting had started

Another view showing memorabilia on display and merchandise