Jack Gubbins
Jack was one of the original 13 Legends and retired from running in 2007 after his 30th consecutive Melbourne Marathon. Here is an extract from the Channel 9 telecast of 2007 run where Jack is interviewed when he finished. It might take a little while to load on a slow connection but is well worth the wait.
Jack passed away in 2017 and the tribute below was published in the April 2017 newsletter. The author is Pete Battrick, himself a Spartan Legend and friend of Jack.
Our two most renowned Spartans are Shirley Young and Jack Gubbins. Both were great examples of what senior athletes can achieve and both had great personal buzz. Last year Shirley passed away and more recently Jack passed away on March 11th, just before his 88th birthday. Jack had been battling the onset of MS for several years but passed away just after walking 1.5K to his Saturday night Mass service. Passed away in his usual pew and with his Ironman Triathlon Track Suit on!
Jack and his brother Jim (S0119) grew up in Newport and were dedicated footballers. When Jack married Pat they moved across to Dandenong. Jack then played football with Oakleigh YCW which is now Oakleigh Chargers in the VAFA. When he was 'too old' for the Firsts, he took over as Captain/Coach of the Seconds. They won a number of premierships under Jack's leadership. Finally Jack 'had' (very reluctantly) to give up football so he and Jim swapped to running. And along came the Melbourne Marathon. Jack ran in the first Melbourne Marathon, running 4h 5m at the age of 49. After an unbroken record of thirty Big M's, he ran his last Marathon in just over six hours at the age of 78. He retired on the spot as he crossed the Finish Line. (See the video mentioned above) He was a Spartan Legend. He was involved in the Spartans as much as he could be, and the quickest Spartan Male each year is awarded the Jack Gubbins Medal in his honour. But it wasn't only in Marathons that Jack was a trail blazer. Summers for the Gubbins family had a high emphasis on beach activities and they had a beach house down at Torquay. The first Triathlon in Victoria was promoted in November 1981. Jack completed it and was now hooked on Triathlons as well as Marathons. Jack was now training for marathons, swimming in the old Noble Park Pool and the surf down at Torquay, and started training on the bike. He then began riding in the 210K Round the Bay bike ride and had completed ten circuits of that event. Most of the ten would be while in his 70's. Jack competed in the annual 1200M Pier to Pub swim at Lorne and, by finishing ten of those, had become a member of the Sharkbait Club ("Spartans" sounds a lot safer than "Sharkbait"!). His exploits set an example for his extended family and five years ago there was a great photo of Jack, two sons, and a grandson all having just finished the Pier to Pub Swim.
Though I already knew Jack through the Spartans, I got to know Jack, and his special triathlon mate Brian Lynch, through the Dandenong Triathlon Club and training at the old Noble Park Pool. Brian and Jack competed together in triathlons but then moved up to racing in the triathlon Ironman event at Forster in NSW. Jack competed in his first Ironman (3.8K swim, 180K ride, then a 42K run) a month after his 70th birthday. Channel 9 were doing a telecast and Jack featured well in that. Brian (alias Lynchie or Iron Brian) is 5 years younger than Jack and is also a very accomplished triathlete, a prolific age group winner. They spent a lot of time training together, plus interstate trips to compete in Forster. On occasions the local paper featured them leading off on a training ride together. Jack had raced as a 70+ year old in several Olympic distance (1500, 40, 10) and on reaching 75 he won the M75 World Championship in Madeira, 30 minutes in front of second place. He was due to defend his title the following year but the date clashed with the Melbourne Marathon, so he opted for the marathon. Jack 'had a go' at many events but particularly as an older competitor. His example to all of us to keep going as we age is exemplary. His friendly personality endeared him to many.
To Pat and family, to Brian, and to all Jack's other friends and associates, we are very fortunate to have been involved with such a real gentleman and masters trail blazer.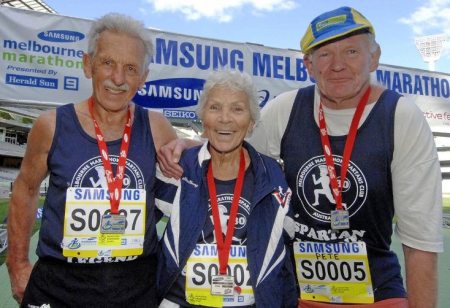 Legends Jack Gubbins, Shirley Young and Pete Battrick with their medals after the 30th Melbourne Marathon.


This video, also from the 2007 marathon telecast, includes an interview with Jack a few days before the race. He explains his training regime. Jack's interview starts around 1 minute 45.

See more about Jack as one of the Legends.