News from Tony Berry (S0436) January 2017
Inspired and encouraged by the latest newsletter, I thought it was about time I made contact with those old-timer Spartans who might still recall my name. Thus I can assure them that although no longer on the Melbourne running scene, I have not yet trotted off to that great marathon course in the sky and am actually still churning out the occasional mile (and a bit more) 12,000 miles away in the UK.
For reasons too odd and convoluted to explain here, I somehow sort of settled into life in the far south-west and have yet to summon up the energy and willpower to face that godawful flight back to Oz. However, I do still maintain an abode in dear old Richmond and keep up membership of the Victorian Masters – just in case.
My initial reason for coming here – to Cornwall – was to run with my niece in the Truro Half-Marathon and visit rellies. The niece chickened out, I astounded the locals with a 1:37 half-marathon (winner of the M70 category) over a very hilly course and somehow I became embedded apart from a couple of early brief trips back to Melbourne.
Since then, I have become a regular on the local running scene as a member of Truro Running Club and a second claim member of the South-West Veterans. And somehow I have got my running mojo back and for the past several years have been in the top half-dozen (even first on a couple of occasions) in the British age group rankings for most distances from 5km upwards. I also got selected to run for England (dual nationality) in the international cross-country between England, Ireland, Scotland and Wales, finishing as third individual and helping the team to the gold medal.
Now in the M80 category, this year has begun well at No.1 with a 10-mile finish last week in 98:32, which follows on from my 2016 No.2 ranking for the 10km with 54:14 on my 80th birthday.
My last marathon in Oz was at the World Masters in Brisbane as an M65 when I finished in 3:16. Since then it all seemed a strep too far until a couple of years back I decided to have a crack at the Manchester Marathon which, unlike the local marathons, offers a fast flat course. Was going great guns to 20 miles (in 2:54) but then the wheels sort of fell off and I finished in 4:14. Not bad, I suppose for a 78-year-old but then, some months later, came the notice from the race organisers that the course was a hundred yards or so short – and all results were declared null and void. Not adjusted, but cancelled, obliterated. Those 26 miles I and thousands of others ran, never existed!
And so, probably quite foolishly, I have entered for the same race against this year in April, just before the London. Whether I will pluck up the courage to be there on the start line is still a very big question.
I did make an appearance at the Melbourne Marathon a few years back – but only to run the half-marathon. Happily I completed that in 1:33:51, which I believe still stands as a world fourth-fastest M70.
So, happy memories.
The running scene here in very lively. It is quite common for 600 or more runners to descend on a tiny village to take part in one of the 16 races that make up the annual Grand Prix competition covering all distances from 5km to full marathon. There is no such thing as a flat race; the extremely hilly terrain ensures that. And I mean hilly – think of steeper than Anderson Street and continuing on for at least twice its length. There is a fair amount of off-road running, several at night requiring the use of head torches. It sure toughens you up and is a great training aid for those rare times one runs on the flat.
It's great to see the Spartans thriving and expanding and I still wear my green singlet with pride. Greetings to all who might remember me. Happy running to all.
Update April 24
We asked Tony whether he ran the recent Manchester marathon.
An update: marathons still tempt but I honestly think it's a step too far.
However, I recently ran the Reading Half Marathon in 2:04 and a couple of weeks later won the British Masters Athletics Federation's national 10km road race title with a woeful 57:42 on what was the hottest day this year on an undulating tarmac track with no shade.
And this weekend I knocked 3 minutes (!) off my Parkrun PB with a 26:18 finish that puts me at the top of the UK rankings. where I am also 3rd for 10 miles, 2nd for 10km and 1st for the half-marathon, despite most of my runs having to be on very hilly courses,
Now looking forward to the rest of the season.
Contact Details
[email protected]
www.yarraboy.com
The Blog: http://www.yarraboy.com/blog/
Photos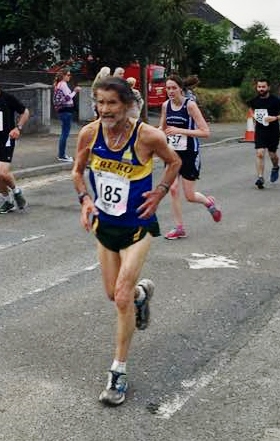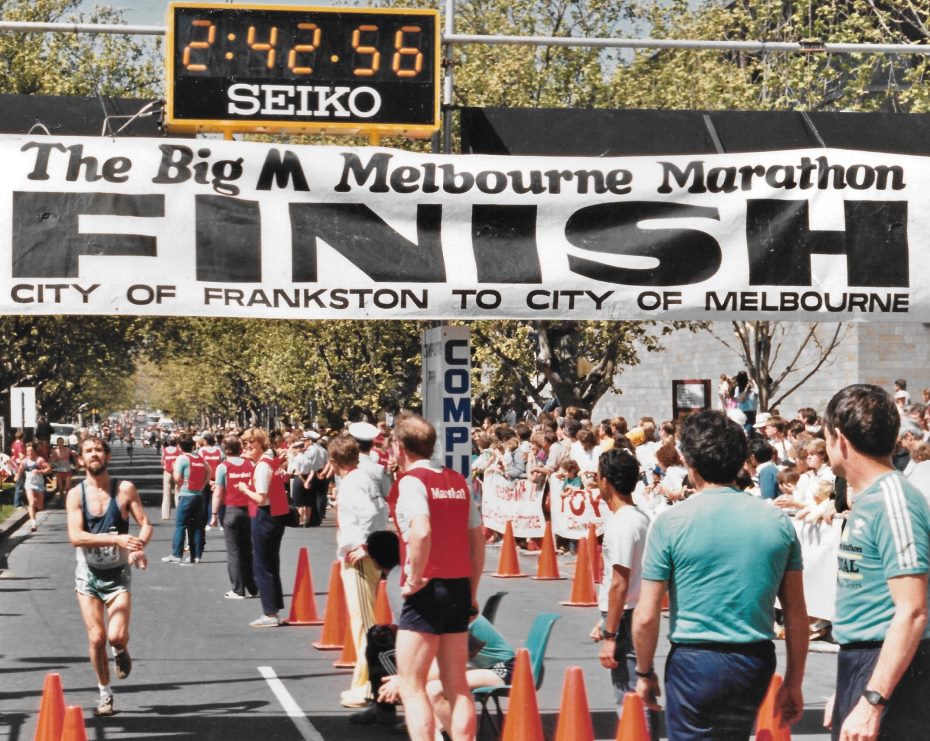 Tony finishing first in the M50 group in 1985.
22 December 2018
Tony is still in fine form. The picture below shows him (in the blue Truro singlet) at the Albert Parkrun running 27:36 and smashing the 80-84 record.

August 2019
Part of an email from Tony:
The 84th birthday coming up in a couple of weeks but am still running everything from 3000m track (16:01 last week) to half-marathons – two this year and another this coming weekend, (so far around 2:25 on the horrendously hilly courses we have here in Cornwall but hoping for something speedier on a flat road in Maidenhead).
2019, prior to AGM
Part of an email from Tony:
Greatly regret but distance precludes my attendance at the AGM and all that follows.
Have a great meeting – and another successful Melbourne Marathon.
Have recently paid my dues so membership should again by up to date.
Have just celebrated my 84th birthday with a 2.11 half marathon after a ding-dong battle all the way and a sprint finish that saw me beaten by one second by a youngster of 82.
2020, after virtual Melbourne Marathon Festival
Part of an email from Tony:
Didn't realise a resume of the Adelaide Marathon was in progress. I lived there in the 1980s and ran the Adelaide Marathon I think three times and always with Premier Bannon in sight – and beating him each time. Best performance was ín 1983 as winner of the M45 group in 2:42:22.
I resisted the temptation to tackle the recent virtual run over the full distance but, for old times sake, entered the 10km and have just discovered I was placed 1st in the 8o+ category. Chuffed!! A nice finale to the glory days.
All strength to the continuing growth and success of the Spartans. Happy running to all from distant shores.
86th Birthday Half Marathon
Tony recently published this photo on Facebook of him finishing a half-marathon just after his 86th birthday. His time was 2:39:25.