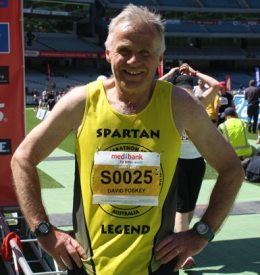 Those who have been following the sporadic reports on my training might remember that the aim was to run faster than last year, and to break 5 hours. Neither goal was achieved as my time was three minutes slower than in 2011. The only reason I'm smiling in the photograph is that I finished.
I have no excuses as there were no injuries and no illness, not even a cold during the preparation. And who could complain about the weather? The only thing that wasn't according to plan was that I started at the front of the field, and hence ran too fast early. Even with that, the pace was never uncomfortable. It also gave a lot of runners the chance to look at our new singlets as they went past, and I'd like to thank the many who made encouraging comments.
A positive was the number of Hall of Fame runners who completed the course. I'm unaware of the personal circumstances of all of them, but do know that Legends Pete Battrick, Nev Gardner, and Peter Ryan finished despite injury and/or illness. It would be no surprise if all three run substantially faster next year.
2013 Update
I went into the 2013 run with no expectations of running better than in 2012. To my surprise the time of just over 5 hours was my best since 2005.
The reasons, I think, were as follows:
– A greater proportion of my training time was spent running on the roads, rather than in the gym.
– I was a couple of kilograms lighter than in 2012.
– I trained at lunch times during the week which forced me to run over some moderate hills. I don't enjoy hill running, but they became easier and contributed to strength.
– A weekly "sprint" session was scheduled, and occasionally achieved. These are also not very enjoyable.
– My carbohydrate loading in the past centred on jelly beans and other sugary delicacies. This year I concentrated on complex carbohydrates.
– Marathon day was ideal, even better than 2012.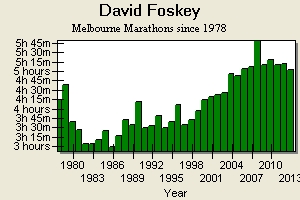 Share