It has been noticeable that in recent years an increasing number of women are completing the Melbourne Marathon, but I was surprised to read that 55% of the 11,000 half marathon entrants are women. This lead me plough through some result books and spreadsheets to see the numbers for the full marathon.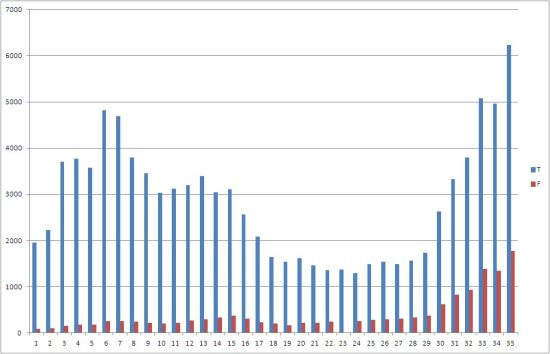 "
In 1978 there were 1947 finishers but no breakdown by sex. There were 123 female entrants, but the real number of finishers is unclear. The results book says that there were almost 3000 entrants in total so it is probable that the actual number of female finishers was something like 80. The 1979 book says that only 104 of the 274 female entrants finished. 1979 was a particularly hot year and the overall figures were 5561 entrants and 2226 finishers. I was able to get fairly reliable figures for all subsequent years except for 2000. The graph shows the total number of finishers(T) and the number of female finishers(F). In 1978 and 1980 the percentage of females is approximately 4.1%. A big jump occurred in 1991 where that rate increased to 11.0% from 8.6% in 1990. The rise since then has been steady with the highest figure being 28.4% in 2012. I expect that we will continue to see the proportion of women increase as more and more realise that, having completed 21.1 kilometres, the full marathon is achievable.
The number of female Spartans also reflects the increasing female participation. Of the 88 original Spartans, only two (2.3%) were women. At the time of the 2012 AGM, there were 70 out of a total of 1188 (5.9%).
Share