Club Runs Announced!
Starting in May, the Sunday Run is back!!!!! The latest newsletter announced the club runs which commenced May 5.
The following runs will commence from Carousel carpark, Albert Park at 8:00 am. $2.30 to park all day. A coffee and chat afterwards!
12/05/2013 Led by Jay Fleming 0418 374 783
19/05/2013 Led by David Foskey 0432 146 747 – this will combine with Legends get together – all welcome
26/05/2013 Led by Jay Fleming 0418 374 783
02/06/2013 Led by Jay Fleming 0418 374 783
09/06/2013 Led by Jay Fleming 0418 374 783
16/05/2013 Led by Jay Fleming 0418 374 783
23/06/2013 Led by Jay Fleming 0418 374 783
30/06/2013 Led by Jay Fleming 0418 374 783
These Sunday runs are not exclusive to Spartans – all interested running family, friends, Melbourne Marathoner first timers, seasoned marathoners, half marathoners, fun runners are most welcome.
Charity Initiative
The Committee has decided to to make a contribution to charity by enabling the purchase of the 2013-2014 Entertainment Book. The book is filled with 2-for-1 and up to 50% offers valid until June 2014. There is also a phone app that informs you of nearby facilities.
Discounts are available for dining at establishments ranging from McDonalds to Sapore. There are reduced admission costs for cinemas and a range of attractions, travel savings, and shopping discounts of 5% at Coles and Woolworths. The cost of $65 can be recouped from as few as three transactions.
All proceeds from the sale of these books will be donated to charity – see next newsletter. For more details or to purchase: 2013-2014 Entertainment Book.
"The Wall: The history of the Melbourne Marathon 1978-2012″
This handsome hardback book is now available for purchase. You will be proud to display it on your coffee table and will pick it up to read the report of your fastest marathon, or look again at some of the 500 pictures it contains.
Who better to write this history than Chris Muirden who is a journalist, has been course director and has three Melbourne Marathon times under 2:46? The range of the book is extraordinary. There is a detailed report of the leading runners for each marathon. The administrators who made it possible are given their due respect. There are sections covering celebrities who have run and VFL/AFL footballers who have found it a far more difficult challenge than expected.
Chris made many discoveries while researching and some of the most insightful sections are the interviews with past competitors. These are interspersed as breakouts throughout the book. Seek out the sections on Shirley Young, Kylie Dick, and Russell Foley.
The Spartans are well covered with nine pages. Club formation is described and there are interviews with the Legends and the "Almost Legends". Not surprisingly, Spartans also feature strongly throughout all pages.
Order direct from Chris via email at muirden@iprimus.com.au. It is also available at Dymocks book stores – seen in Camberwell and Bendigo, so probably available everywhere.

Who are the Spartans?
Melbourne Marathon Spartans have all completed at least ten Melbourne Marathons. Anyone who achieves this feat is allocated a number which is to be worn for all subsequent Melbourne Marathons. Spartan singlets are issued when a runner reaches 10, 15, 20, 25 or 30 runs. 201 Spartans completed the 2012 marathon, and 35 new Spartans ran their tenth. After the 2012 running there are 1144 men, 78 women and 2 wheelchair Spartans. The 2012 results are here.
Ten runners have completed all 35 runs from 1978 to 2012. These runners are designated Legends. A further 20 have completed at least 30. See the Hall of Fame page for a full list.
The 2012 Melbourne Marathon was run a few months ago!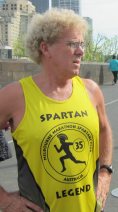 The new Legend singlets, modelled here by Peter Ryan, attracted plenty of attention during the run.
See more photographs at the bottom of this page.. Photographs of all Spartans singlets are here.. See here for Spartans 2012 times.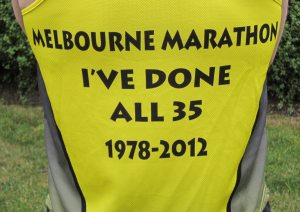 Annual General Meeting 2012
The 2012 Annual General Meeting was held on 17 September 2012 in the Harrison Room at the MCG. Guest speaker, Tom Hafey, gave an inspiring talk. Chris Muirden whetted our appetite for his book with some anecdotes.
AGM Photographs
Photographs are now available through the website.
The Spartans Club
The Melbourne Marathon Spartans Club is incorporated and complies fully with its statutory requirements. The modest member fees are used to:
Run the Annual General Meeting. Guest speakers have included Robert de Castella (Club Patron), Steve Moneghetti and Derek Clayton.
Provide a tent, refreshments, and masseurs at the Marathon venue.
Printing of Singlets.
Publish a newsletter.
Send emails to members on our mailing list when we learn something of interest.
Maintain a database of all members.
In addition, we meet regularly with IMG to discuss various aspects of the Marathon.
If you aren't financial for 2012-13, please download the membership renewal form.
Joining the Spartans
If you have already run ten Melbourne Marathons, or plan to run your 10th in 2013:
Advise us of your marathon times, as accurately as possible. These will be confirmed by the club.
A good resource to find your times is the "Search for Runners" on AUSRUNNING.
Also advise us of your contact details and date of birth.
Pay the annual subscription fee for 2012.
There were 37 new Spartans in 2012, including eight females. There were 227 financial members in early November 2012.