2013 Melbourne Marathon has been run
October 13 was ideal for marathon running and many runners were pleasantly surprised by their times. The number of runners having massages was a little down, probably due to the cool afternoon. Colin Silcock-Delaney, Jack Fredrickson, and John Dean made sure everything ran smoothly.
All the 10 Legends finished. Ian Campbell, Bryan Flegg, Chas Harcoan, Antony Martin, Dennis Nish, and Richard Tann joined the ranks of Spartans who have completed 35 Melbourne Marathons. Tony Martin is shown below, using his 85 years of life experience to help Meri Moriguchi and and Phenchan Kavanagh across the line.
Spartan times for 2013 have now been entered.
Pictured at right is Ian Gainey who completed his 25th Melbourne, an effort unlikely to be ever equalled.
Spartans often have articles written about them in their local newspapers and Cyndi Nunn has recently featured in the Ballarat Courier. Ian Gainey was profiled in the Wyndham Weekly. Some editions of the Herald Sun on September 22 carried a story about the Legends.
Thanks to Jane Sturzaker for Ian Gainey's photograph and to IMG for the photo of Tony Martin. If anyone has some images they would like to share, please send them to
webmaster@melbournemarathonspartans.com.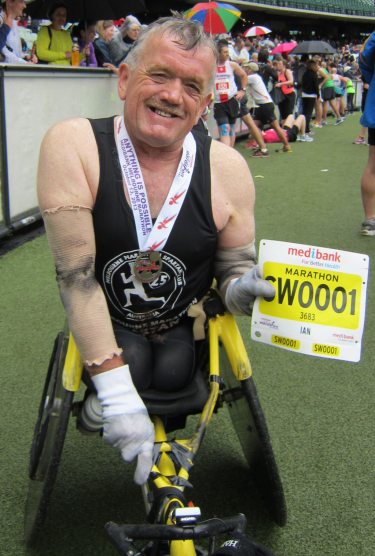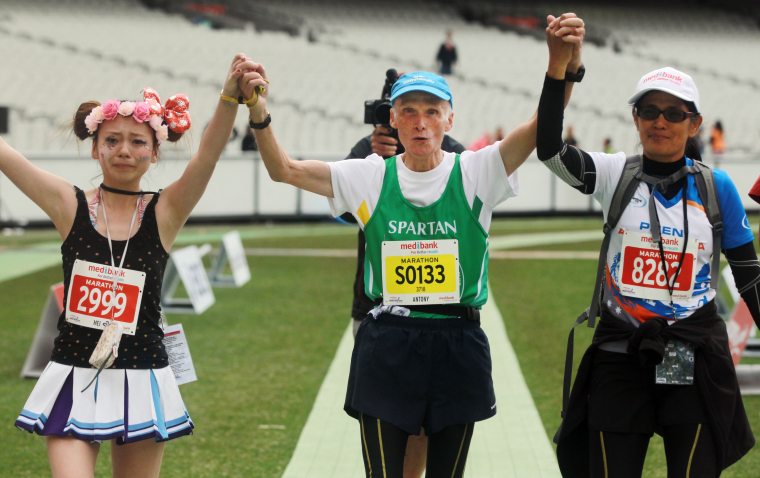 >
This year Cyndi Nunn became a Spartan, just like Mum (Jill) and Dad (Brendan). The picture at right shows how they celebrated.
There are a number of other Spartans who have similar tattoos, including two of the Spartan Legends. It is, however, unlikely that they will become compulsory.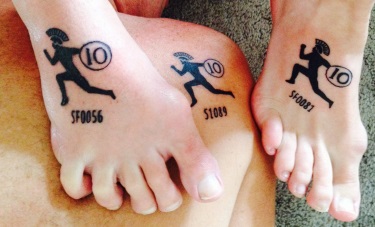 2013 AGM Photos
We have just published photographs from the 2013 AGM.
This was a great evening with many highlights:
- new singlets unveiled;
- presentation of singlets;
- Hall of Fame inductions;
- inspirational talk by guest speaker Tristan Miller;
- large attendance despite inclement weather.
August 2013 Newsletter Now Available
Our August 2013 newsletter is now available. If you aren't on the email list and wish to be contact us.
The newsletter contains a membership payment form, and a nomination form for aspiring committee members. Please think seriously about joining the committee: it's not too time consuming, and it gives the opportunity to contribute to this unique group. We are short of members so you won't be denying anybody a role. No special skills are required apart from a commitment to the marathon.
New Shirley Young Story
Written by Kevin Cassidy and published in a recent edition of Ultra magazine, this story describes an aspect of Shirley's running history that might be unfamiliar to mere marathoners. Ultra magazine is published by The Australian Ultra Runners Association.
Message from our Patron
We have just published a message from Robert de Castella who is our patron and Australia's most successful marathon runner ever.
Club Runs Announced!
Starting in May, the Sunday Run is back! They commenced May 5 and Sunday the 30th of June was the last in the first series.
The May 19 run doubled as an opportunity to shoot some footage for a future documentary. Those who attended were treated to some marvellous weather and had an enjoyable day. We would like to thank the Carousel Cafe for reserving two tables for us on their busiest day of the year and making their deck available for filming.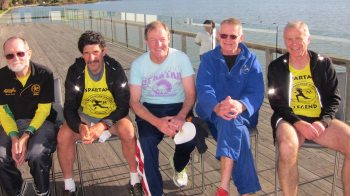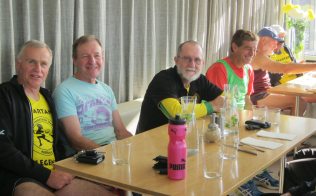 Charity Initiative
The Committee has decided to to make a contribution to charity by enabling the purchase of the 2013-2014 Entertainment Book. The book is filled with 2-for-1 and up to 50% offers valid until June 2014. There is also a phone app that informs you of nearby facilities.
Discounts are available for dining at establishments ranging from McDonalds to Sapore. There are reduced admission costs for cinemas and a range of attractions, travel savings, and shopping discounts of 5% at Coles and Woolworths. The cost of $65 can be recouped from as few as three transactions.
For more details or to purchase: 2013-2014 Entertainment Book.
"The Wall: The history of the Melbourne Marathon 1978-2012″
This handsome hardback book is now available for purchase. You will be proud to display it on your coffee table and will pick it up to read the report of your fastest marathon, or look again at some of the 500 pictures it contains.
Who better to write this history than Chris Muirden who is a journalist, has been course director and has three Melbourne Marathon times under 2:46? The range of the book is extraordinary. There is a detailed report of the leading runners for each marathon. The administrators who made it possible are given their due respect. There are sections covering celebrities who have run and VFL/AFL footballers who have found it a far more difficult challenge than expected.
Chris made many discoveries while researching and some of the most insightful sections are the interviews with past competitors. These are interspersed as breakouts throughout the book. Seek out the sections on Shirley Young, Kylie Dick, and Russell Foley.
The Spartans are well covered with nine pages. Club formation is described and there are interviews with the Legends and the "Almost Legends". Not surprisingly, Spartans also feature strongly throughout all pages.
Order direct from Chris via email at muirden@iprimus.com.au. It is also available at Dymocks book stores – seen in Camberwell and Bendigo, so probably available everywhere.
Who are the Spartans?
Melbourne Marathon Spartans have all completed at least ten Melbourne Marathons. Anyone who achieves this feat is allocated a number which is to be worn for all subsequent Melbourne Marathons. Spartan singlets are issued when a runner reaches 10, 15, 20, 25 or 30 runs. 201 Spartans completed the 2012 marathon, and 35 new Spartans ran their tenth. After the 2012 running there are 1144 men, 78 women and 2 wheelchair Spartans. The 2012 results are here.
Ten runners have completed all 35 runs from 1978 to 2012. These runners are designated Legends. A further 20 have completed at least 30. See the Hall of Fame page for a full list.
The Spartans Club
The Melbourne Marathon Spartans Club is incorporated and complies fully with its statutory requirements. The modest member fees are used to:
Run the Annual General Meeting. Guest speakers have included Robert de Castella (Club Patron), Steve Moneghetti and Derek Clayton.
Provide a tent, refreshments, and masseurs at the Marathon venue.
Printing of Singlets.
Publish a newsletter.
Send emails to members on our mailing list when we learn something of interest.
Maintain a database of all members.
In addition, we meet regularly with IMG to discuss various aspects of the Marathon.
If you aren't financial for 2013-14, please download the membership renewal form.
Joining the Spartans
If you have already run ten Melbourne Marathons, or plan to run your 10th in 2013:
Advise us of your marathon times, as accurately as possible. These will be confirmed by the club.
A good resource to find your times is the "Search for Runners" on AUSRUNNING.
Also advise us of your contact details and date of birth.
Pay the annual subscription fee for 2013-14.
There were 24 new Spartans in 2013, including five females. There were 195 financial members in late November 2013.